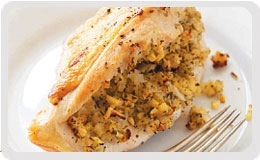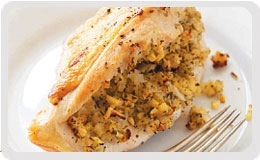 Chicken Stuffing
Ingredients:
• 1 cup finely chopped white or yellow onions
• 1 cup grated hard Italian cheese (pecorino, made from sheep's milk, is preferred)
• 1 cup bread crumbs
• One half cup chopped fresh parsley
• 2 medium-size eggs (or 1 extra large one)
• One-half teaspoon ground white pepper (black pepper may be substituted)
• 1 teaspoon virgin olive oil, salt to taste.
Directions:
1• Mix the ingredients in a large bowl, kneading the mixture until it's uniform in consistency.
2• Add a little water if necessary to make it more workable. Then stuff the mixture into the cavity of the chicken or turkey before roasting.
3• In Sicily, the chicken is sometimes garnished with fresh rosemary, and Marsala wine is poured over it at several points during the baking.