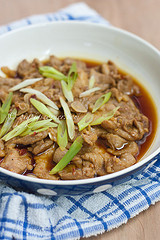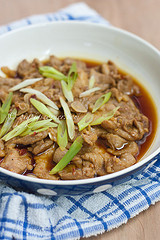 Sliced White Pork
Ingredients:
2 lbs uncooked pork or bacon
1 onion, cut into small pieces
3 slices ginger
1 clove garlic, ground
4 tbsp soy sauce
Directions:
Boil pork with onion and ginger for 40 minutes. Be sure water is deep enough to cover meat.
Allow pork to cool; then cut in thin slices.
Mix ground garlic with soy sauce and serve as seasoning for dipping pork slices.