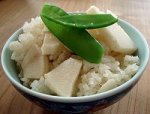 You can publish this article on your website as long as you provide a link back to this page.
This article was last updated on April 16, 2022

Creamed Bamboo Shoots
Ingredients:
3 lbs fresh bamboo shoots (or 1 ½ lbs canned)
3 tbsp oil
1 cup water
½ cup evaporated milk
1 tsp cornstarch, mixed with 1 tbsp water
1 tsp salt
1 tbsp chopped boiled ham
1 tbsp chopped cooked (or fried) mushroom
Directions:
Peel fresh bamboo shoots, cut off tough parts, and cut shoots into small slices.
Heat 3 tbsp oil and fry bamboo. Add 1 cup water and cook for 10 minutes. Then add milk, cornstarch mixture and salt.
Place in serving dish and sprinkle with chopped ham and mushroom. Serve hot.