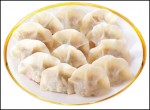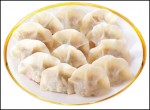 Beef Dumpling
Ingredients:
8 oz. ground beef
1 1/2 tbsp. soy sauce
1 tbsp. chopped cilantro
1 tsp. minced ginger root
1 tsp. cornstarch
1/2 tsp. peanut oil
wonton wrappers, round
water
Directions:
Combine beef, soy sauce, cilantro, ginger, cornstarch, and oil.
Place 8 wonton wrappers on work surface. Place 2 tsp. of filling in center of each wonton wrapper. Moisten the edges of wrappers with water. Lift sides of wrapper, and pinch together above stuffing, gathering up edges and pleating wrappers. Seal edges tightly. Continue process until all the filling is used.
In a large skillet bring 2 c. of water to a boil. Reduce heat to med., and add dumplings (not all of them about half). Don't let dumplings touch.
Cover, but not completely, allow steam to escape about 15 mins., until dumplings are firm and wrappers are soft.