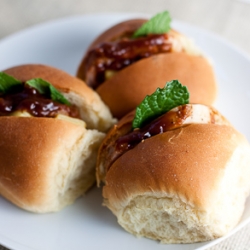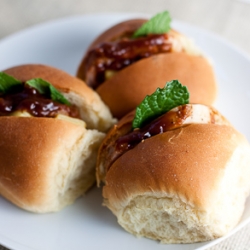 Barbecued Meat Bun
Ingredients:
Wrapping:
1 package active dry yeast
1 ¼ cups warm water
1 tbsp sugar
4 cups all-purpose flour
Filling:
1 tbsp oil
2 garlic cloves, minced
1 small scallion, chopped
1 tbsp dry sherry
1 tsp soy sauce
1 tsp oyster sauce
2 tsps sugar
½ cup water
½ lb barbecued pork
1 tsp cornstarch, dissolved in 1 tbsp water
Directions:
For the wrapping, dissolve the yeast in the warm water, with 1 tsp of the sugar added. Leave in the warm water for 15 minutes or until frothy.
Sift flour and remaining sugar in a bowl. Add the yeast mixture and mix to a firm dough. Knead on a lightly floured board until the dough is smooth and elastic. Place in a large bowl, cover and leave in a warm place to rise for about 2 hours.
To make the filling, heat the oil in a pan. Add the garlic and scallion and stir-fry for 1 second.
Add the sherry, soy sauce, oyster sauce and sugar and stir fry for 20 seconds. Pour in the water and bring to the boil.
Chop the pork, add to the pan and cook for 1 minute. Add the cornstarch mixture to cook, stirring, until thickened. Remove from the heat and allow to cool.
Divide the dough in half and shape each piece into a roll. Cut each roll into 10 slices. With the palm of the hand, shape each slice to a circle, about 3 inches in diameter. Place 1 tsp of the pork filling in the centre of each circle
Bring up the sides of the dough, pleat and pinch the edges together to seal tightly.
Place the meat buns on a damp cloth in a steamer and stem for 15 minutes. Serve hot.