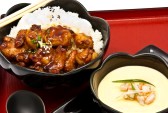 This article was last updated on April 16, 2022

Steamed Egg Whites
Serves 4
Ingredients:
6 egg whites
1 tsp salt
1 tsp Chinese rice wine or sherry
½ tsp MSG (optional)
1 cup milk
1 tbsp dried shrimps, soaked in hot water and drained. Retain water.
1 slice ham, cut into thin strips
½ green onion, cut into thin strips
Directions:
Combine egg whites, salt. Chinese rice wine, MSG, and milk in a bowl. Beat until frothy. Add shrimp to the mixture.
Transfer above mixture to a deep bowl. If there is any foam on surface, remove with paper towels.
Steam for 4 minutes over high heat. When the surface begins to thicken, remove from heat. Sprinkle ham and green onion over surface and cook over medium heat for another 5 minutes.
You can publish this article on your website as long as you provide a link back to this page.