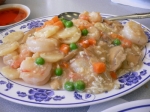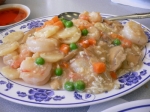 Shrimp in Lobster Sauce
Ingredients:
1 lb. jumbo shrimp, shelled, deveined, and butterflied
1 tbsp. fermented black beans
2 cloves garlic, minced
1 quarter-sized slice fresh ginger, peeled, minced
1 tbsp. Shao Hsing rice wine, or dry sherry
2 tbsp. peanut or corn oil
1/2 tsp. salt
6 oz. ground pork butt
1 small onion diced
1 green bell pepper, diced
1/2 tsp. granulated sugar
pinch of white pepper
1/2 tbsp. light soy sauce
3/4 c. chicken stock
2 tsp. cornstarch, mixed with 2 tsp. water
1 egg, lightly beaten
1 green onion, chopped
1 tsp. sesame oil
Directions:
Cover the black beans with lukewarm water, and soak for 5 mins. Drain. Combine with the minced garlic and ginger. Gently crush into a paste. Mix in wine, and set aside.
Place a wok over med-high heat. When hot, drizzle in half of the oil. Add the shrimp, and stir-fry until they begin to curl and turn opaque, about 1 min.
Remove to a dish, and keep warm.
Reheat wok over med. heat. Add remaining tablespoon of oil and salt. Add the black bean paste, and sauté a few secs., until it becomes aromatic.
Increase heat to med-high. Add the pork, and stir-fry until the morsels are no longer pink, about 3 mins.
Add onions, peppers, sugar, white pepper and soy sauce. Toss together until the vegetables begin to soften, about 1 min.
Add the stock, and keep tossing until it comes to a boil. Stir the cornstarch mixture to recombine, then drizzle into the center of the work, stirring constantly, until mixture thickens.