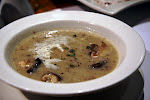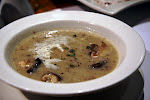 Supreme Mushroom Soup
Ingredients:
A:
5 dried coiled bamboo shoots
1 cup straw mushrooms
35g small size Chinese mushrooms
110g golden needle mushrooms
1 slice ginger
B:
1 tbsp sesame oil
1 tsp salt
1 tsp MSG (optional)
Directions:
Soak the bamboo shoots in water for 2 hours. Cut into pieces 1 cm wide. Rinse the golden needle mushrooms and trim off the lower ends.
Blanch the straw mushrooms in boiling water for 3 minutes. Rinse and cut into halves. Soak the black mushrooms in water until soft. Remove the stems.
Put 'A' and 'B' in a pot. Add 1 big bowl of water and bring to a boil. Let simmer for 40 minutes, remove and sprinkle some chopped celery over the soup (optional)