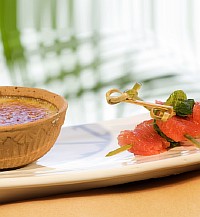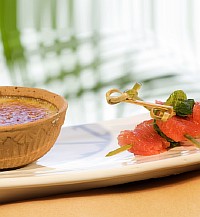 Coconut and Jaggery Crème Brulee (Yields – 15 portions) Coconut And Jaggery Creme Brulee
Ingredients:
Egg Yolks – 10 nos.
Fine sugar – 35 gms
Jaggery – 35 gms
Double cream – 500 ml
Coconut milk powder – 200 gms
Gelatin leaves – 4 nos.
Vanilla pod – ½
Grapefruit – 1 no.
Mint leaves – Few leaves
Method:
1. Take the cream and jaggery in a heavy bottom pan and place it on the fire.
2. Slit the vanilla pod lengthwise from centre, scrap the vanilla beans and add it to the cream.
3. Stir it constantly to avoid jaggery sticking to the bottom.
4. Whisk in the coconut milk powder when the jaggery is completely dissolved and the cream is thoroughly hot. Take it off the fire.
5. Soak the gelatin leaves in warm water in a bowl.
6. In a mixing bowl, whisk the egg yolks with sugar till the sugar is completely dissolved.
7. Add a little cream mixture to the egg yolk emulsion and mix.
8. Add the entire egg yolk mixture to the cream mixture.
9. Drain the water out of the gelatin leaves and mix them in the above mix.
10. Return it back to the fire and cook for another minute.
11. Take it off the fire and pour into individual serving moulds.
12. Put in the fridge to chill it nicely.
For grapefruit pops:
1. Peel the grapefruit and desk in the individual pieces carefully so that the juice is not squeezed out of the grapefruit segments.
2. Cut the segments into bite size pieces.
3. Pierce a mint leaf on the toothpick and then the bite size grapefruit segment.