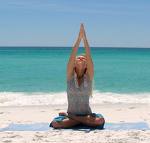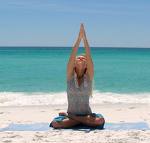 Everybody is doing it — from corporates to housewives, from pregnant mummies to doddering old granddaddies.
And you are spoiled for choice. There are as many types as there are people who claim to know enough to teach you. We are talking about yoga and its trendier cousin — modern yoga.
The 1000-year-old science got a Botox injection and today it is all new and shiny. But is the latest yoga to hit the floor really yoga, people seem to be asking.
Yoga according to Patanjali, the founder of the formal yoga philosophy, "Yoga is the inhibition of the modifications of the mind." Patanjali's Ashtanga Yoga stresses on the eight limbs — Yama, Niyama, Asana, Pranayam, Dharan, Dhyan and Samadhi — which charter the broad territory from the external actions to breathing and finally to the internal, soul. Most modern systems are derived from this ancient theory. However, many have modified them reducing it to just a fitness trend.
Even the myth of celebrities losing weight because of their yoga practice, has triggered a dangerous precedence. Further, the health benefits of fast-paced yoga or the unusual combinations of hip-hop, Thai massage etc, with asanas, is misleading. This has led to a raging debate among experts as to whether yoga is evolving or regressing. Ashwin Shetty, who has trained with Swami Kuvalyananda of Kaivalyadham, says, "Yoga is about increasing inner awareness. It also exercises the internal organs whereas, aerobics etc, focus on external organs only. It is important to increase the intensity of the practice as per the flexibility of the body."
With, dime a dozen yoga training centres, the age-old science is accessible like never before. Institutes are churning out 'yoga instructors' every two months. Yoga guru, Bharat Thakur who is credited with inventing Artistic Yoga, says, "Yoga is about the mind, body and breath. You have to have a thorough knowledge of physiology and biological sciences. Also, who you have learned the art from is very important. Complete knowledge of the human body is essential for developing a compact new system. Today, it has become mostly a lucrative business."
But it's not all that bad. There are distinct advantages to this new avatar. More and more youngsters are becoming health conscious. As Ashwin points out, "People are becoming curious about this 'trend'. And there are schools that are authentic." But remember, yoga is not a magic wand. And if done wrong, it can harm more than heal. Payal Gidwani Tiwari, a yoga instructor says, "Yoga rejuvenates the endocrinal, hormonal and nervous system. Incorrect yoga practice can lead to cramped muscles, backache (especially lower back), hormonal imbalance and a host of problems." She is very firm as she adds, "If you are teaching the science in a modern way, don't forget the essence of it that comes from the traditional tree."