You can publish this article on your website as long as you provide a link back to this page.
This article was last updated on April 16, 2022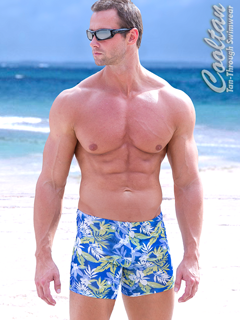 We wish summer would never end, but sadly we are winding down on how many days of warmth we have left and are coming closer and closer to Fall. But it's not too late to get the perfect tan that will give you a nice glow to enter into Autumn with. The company CoolTanⓇ makes it easier than ever to get the perfect, overall glow, right through your swimwear. Their line of Tan Through swimsuits and shirts make getting a tan as easy as walking on the beach or playing a round of golf.
CoolTan has developed a uniquely knitted fabric that contains Microsol V, which contains millions of tiny pores to allow in around half of the sun's rays. The fabric helps you get a natural suntan about as fast as you would with a medium level SPF, right through your swimsuit or shirt. Those tiny pores also let air and water flow through the fabric, keeping you cool and dry. Plus, the fabric is incredibly lightweight and dries up to 3x faster than normal fabric, making it the perfect choice to pack in a suitcase for vacation. The durable stitching means your suit will last longer, and is even machine washable that makes it super easy to keep clean and pristine.
We love that CoolTan has a variety of different sizes, styles, and colors to choose from- they have more modest one pieces and monokinis to more revealing two piece halter tops and bikinis to suit any preference. CoolTan also has a number of swim styles for men to choose from as well, including Tan Through shirts for men that make it easier than ever to get a tan whether on the golf course or even just lounging outside.
CoolTan is making it easier than ever before to get an amazing tan, and is proving that it's not too late to get that summertime glow. Don't wait, check out CoolTan's website to find the perfect swimsuit or shirt to get that perfect summer tan that you've always wanted!