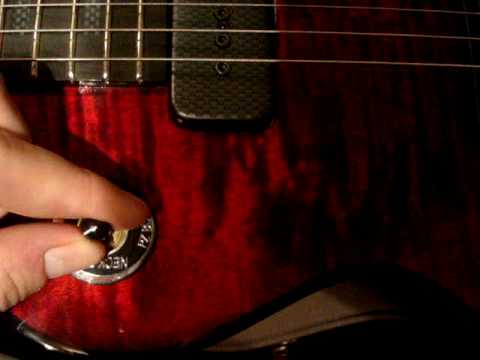 Gibson's ultimate got-to-have for Christmas guitar has arrived, well sort of
The new Gibson Dark Fire guitar started to trickle out from the factory mid-December.
Of course it's gorgeous. Rrrrrgh!
The Dark Fire one-two-and-three up's last years hot Robot Guitar with a new faster robot tuning system that tunes all 6 strings at once.
Tuning and tone is controlled by a user programmer MCK button with more custom tuning pre-sets and custom along with tone variations. The toggle switch dials in more or less of the tone presets.
There are 3 pickups: Burstbucker 3, bridge piezo, and a new P90H.
The body has been re-chambered to increase sustain. Forever? apparently almost with the guitar-to-computer hook-up.
The Dark Fire comes with a computer hookup, Ableton Live 7 and Guitar Rig 3. If you like Ableton, it's easy. Guitar Rig allows you to create a virtual rack with emulation for many famous guitarists. Extra cool. There is also a midi hookup which isn't quite clear – the guitar is not midi pickup equipped.
They are in such limited supply, it's hard to say what the Dark Fire will cost – looks like $3,500. See eBay (watch out- Gibson only warrants original purchase from a dealer)
Robot Guitar owners like moi are being offered an upgrade which could be interesting. I do love my Robot.
Check out the Harmony Central official video.
Whatever happened to the days when you dreamed of owning a Les Paul Custom Black Beauty?
By Stephen Pate, NJN Network