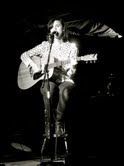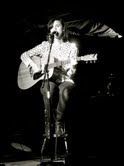 Robin Byrd —My name is Robin Linton (Robin Byrd) and I am a singer-songwriter from Toronto, Canada. I have just recorded my first album, Super Darling, and will be releasing it next month. I play shows very frequently throughout Southern Ontario and have a faithful following of Lil' Byrdies. I perform and record with a rotating selection of talented and diverse Torontonian music-makers, as well as all on my lonesome. Music has been the only constant in my life that I have yet to ruin. The dream is to eke out a modest, satisfying, self-sustaining life where music is the focus.
Paul Collins–Tell us about your background. Who you are? Where you are from?
Robin Byrd —My name is Robin Linton, but when I perform I use the pseudonym Robin Byrd. This name has evolved from the plethora of bird-related nicknames I have acquired over the years and the necessity to create a handle for my YouTube channel a handful of years ago. I was born here in Toronto, and currently live here and plan to live here for the foreseeable future. I lived in Southern California for less than a year, New Brunswick for a couple of years, and over 10 different homes in various parts of this sweet city. I have just returned from the countryside where we rented out a tiny tin church and recorded my first album entitled "Super Darling". It will be ready in the near future and we're doing some crowd-funding to help complete it. You can check it out here: www.kapipal.com/robinbyrdmusic it's going to be 5 original songs featuring Rachel Manderfeld on Harp, David Poulin on Fiddle, and myself with guitar and vocals, all engineered by Ian Gomes.
Paul Collins–What themes does your music explore and what do you hope the listener will take away from the experience? Is there a particular feeling or experience that you hope to evoke in the listener?
Robin Byrd —This record definitely has an eerie sound to it as a result of the reverb the church provided and the layers and layers of vocals and harmonies. Recently I've discovered that most of my music has a great feeling of melancholy, though not in a helpless way. I hope that listeners will be able to relate to the sadness in a way that is accepting rather than self-indulgent.
Paul Collins–What prompted you to be a musician and did you have a specific inspiration in mind? Were you influenced by a certain person, artist, or genre?
Robin Byrd —I have been singing since anyone in my family can remember. From preschool throughout all of the various high schools I attended, I was a part of choirs and vocal ensembles. In middle school (Quest Alternative) I picked up guitar and composed my first original song as a part of a song-writing workshop. I continued to write songs, mostly fictional stories inspired by tumultuous love that I was completely clueless about, and started to get really excited when I heard a few people humming the tune through the hallways. I have a difficult time with classifying the music of others and even more so when it comes to my own works, so I try not to pursue one genre, which I'm sure has its pros and cons. People who influence me are Matt Costa, who I am looking forward to seeing at The Mod Club on April 11th, Madeleine Peyroux, Ingrid Michaelson, and David Ace Dean; a local music-making boy who allowed me to consider the possibility that I could make music that people would listen to.
Paul Collins–If you could compare your music to any other existing works, which ones would it be and why?



Robin Byrd —I am not too sure… obviously I would like to think that I am unique and doing something that is original and not derivative in the slightest, but that is probable impossible. The most consistent comparisons that I have received from others are Matt Costa, JayMay, Regina Spektor, and Feist. I think this has to do with the vocal quality and overall feel of the music, but you are the judge!
Paul Collins–Tell us about your latest music and what inspired you.
Robin Byrd —The music that I have been creating lately is a lot more intricate than previous works. I feel like I am evolving, discovering my sound, and more aware of arrangements and input from others. I was very eager to finally create a complete work and it just so happened that many life changes have occurred recently, so I had lots of material to work with. Returning to school, revisiting life plans, realizing the true character of people, including myself, losing love and finding it and breaking it, moving, new jobs, and being surrounded by awe-inspiring, creative friends, has all contributed to this record.
Paul Collins–Where can readers obtain a copy of your music for them to enjoy? How can they contact you with any thoughts or questions? And do you have a means by which they can "sign up" to be notified when you make more music.
Robin Byrd — "Super Darling" should be available next month via www.robinbyrdie.bandcamp.com. You can keep up-to-date with all of our stuff at www.reverbnation.com/robinbyrdmusic, www.facebook.com/robinbyrdband, or www.twitter.com/RawBinByrd. To help us finish the album, please support and share with others who would like to support independent music: www.kapipal.com/robinbyrdmusic. Feel free to send me an email if you have any thoughts or questions or would like to receive notifications directly: robin.byrd@live.com">robin.byrd@live.com
Hope you join the rest of the Lil' Byrdies out there! Thanks for taking the time to read my self-indulgent ramblings.
Paul Collins–No, thank you. All the best!
Paul Collins,
author of
Mack Dunstan's Inferno/ Mystery of Everyman's Way
Contact Paul Collins on