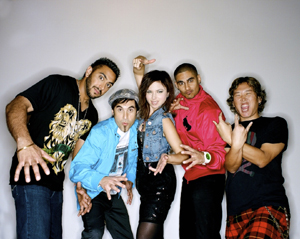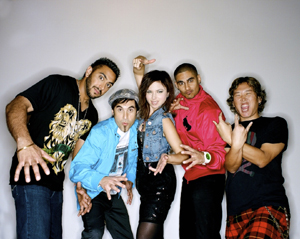 Vancouver-based band Delhi 2 Dublin
The self-proclaimed road warriors Delhi 2 Dublin are at it again, touring across Canada, hot off the release of their second explosive album Planet Electric. Tarun Nayer, Kytami, Sanjay Seran, Andrew Kim and Ravi Binning blast through the speakers with their Punjabi lyrics, Celtic fiddle and with a bit of everything else to boot. Tarun Nayer, tells Oye! Times about how it all started as well as where the group is headed next.
Music history is filled with stories of chance meetings and unique collaborations but not many can come close to the diverse sound that was created by a few young musicians from Vancouver that originally formed Delhi 2 Dublin. True musicians at heart, D2D jammed their way into a mash up/toss-up, energized tornado of music that has resulted in the release of two full-length albums and a busy touring schedule.
Having never played with one another, the band first came together to jam at a Celtic festival in Vancouver on St. Patrick's day in 2006. As is with most good art, an unexpected but welcomed appeal grew for their work. The one-time gig soon transformed the side project into a successful full-time band – a reality that still fuels the group to this day.
Nayer, the band's tabla, electronic and production specialist explains how it all went down.
"We all met in the band," says Nayer. "Each of us knew one or another through different connections in Vancouver's music scene. None of us had worked together before except for Andrew and myself. Andrew wasn't a part of the original Delhi 2 Dublin crew. It was Kytami, myself, Sanjay, our vocalist, and a few other people. We collaborated on this one project and it went really well and we started getting booked out of it."
Being only vaguely acquainted with one another lent itself to the group's organic evolution, both in sound and popularity. The band was experimental in nature. The raw energy of having a great time and responding to what excited their audiences has led them to where they are now. Nayer says it was as if their growth was "by demand" and that the crowds kept them going.
Each member's distinct musical background and interests has an influence on the group. For example, Ravi has a mainly Punjabi music background, compared to Kytami who hails from a mix of classical western music with some electronic thrown in. Fusing their interests creates the band's unique, energy packed sound.
"Over the course of the last few years, we've been on a journey to discover how we can collaborate, cause we are all very different people," says Nayer.
The same goes for the genre they "fit" into. It's common for bands to set out and say they are going to write a specific type of music. For D2D, they initially went on stage with very little material and just jammed, tapping into the crowd's vibe. They continue to deliver high-energy music and have created a legion of fans that are often left shouting for more.
Nayer says, "Finding the meeting place for our differences is really exciting, so I think that's also what the crowd catches on to. It is a very interactive experience between us exploring this relationship between ourselves and getting feedback from our audience as to what works and what doesn't work."
The crowds they draw are as colourful as their music. The band has a strong South Asian fan base in Vancouver and Nayer credits that to their personal connections in the city. Outside of Vancouver, they get a more eclectic crowd following, from the young to the old as well as people from all cultural backgrounds.
Nayer thinks their eclectic audience grab is due to the digital revolution of music, opening up the doors of different sounds to people who wouldn't otherwise be exposed to them.
"We are consciously moving outside of the world music ghetto and more into the mainstream," says Nayer."
But he adds that D2D doesn't push any particular cultural angle in what they do, the end goal is to just make music, which at the very heart transcends all cultures.
"It is just music. We really like thinking of it this way because we don't like putting boundaries on who's going to be listening to our stuff. We offer a really unique and fun way of bringing together people and partying and don't want to limit that to only some people. Fun for everyone!"
Nayer does admit that the band has taken opportunities to play at various cultural themed shows, but over time, D2D has extended its reach by playing in festivals around the world, anywhere from folk to electronic and everything in between.
D2D's road warrior ways land them in Toronto this Saturday, November 20th for what promises to be a dynamite show. The future seems to hold even more touring for the band, as they set their eyes on Asia, specifically India, and potentially Europe in the near future. Nayer says, "We may be in India in January or at least it looks like it. We've definitely had a few offers for distribution and record label opportunities there."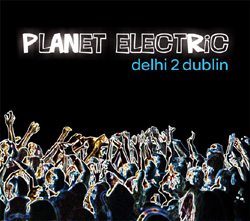 D2D's newest album Planet Electric
released in May 2010
Introducing their sound in Europe is still a focus, although relatively new. The Band went to Berlin for a music conference called Popkomm in September and plan on being back there for festivals this upcoming summer.
With potential international visits to Europe, what about adding Celtic lyrics to the mix?
"I, personally, would love to deepen that aspect of the band," says Nayer.
"Maybe one of these days we'll collaborate with somebody and it'll just sort of work, but at the moment we are trying to keep up with the creative impulses of the band so we haven't really been seeking that out."
D2D continues to evolve and take their music to the masses. It wasn't all that long ago that most of the band members had day jobs, but that has all changed rapidly since 2006.
"Over the course of four years, we've let go of our other commitments. We are now able to make a living through music," says Nayer.
Making a living through music – that's a pretty high measure on the scale of artistic success if you ask me.
Catch Delhi 2 Dublin perform live at the MOD Club in Toronto on Saturday, November 20 at 7:00pm