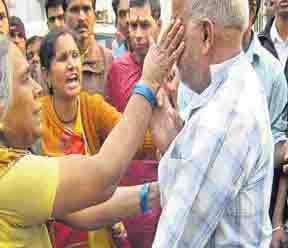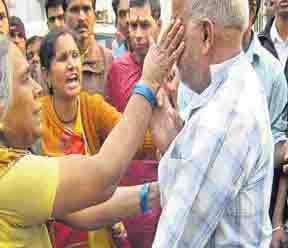 According to police, a woman and her daughter-in-law beat their relative, an ex-patwari in Ujjan, to death inside Ujjan court in advent of revenge on Monday morning. The event gathered massive crowd which stood and kept watching as spectators and did nothing to stop the unfortunate incident.
The ex-patwari, Ramesh Nigam aged 72, was accused to have played a significant role in the murder of Prakash Nigam and his father, Mahesh. The widowed wives of the murdered attacked the victim on Monday when he arrived for a court hearing. The women beat Ramesh with chappals pushing him to fall on the ground. Ramesh was taken to the hospital later on where he was declared dead at the time of arrival.
The outcome is a consequence of an old family dispute where the family came to Ujjan court for the settlement of the case. The victim and the attackers got into a hard argument outside the court where the women got aggressive and started slapping the victim with chappals causing the death of Ramesh at spot.
The superintendent of Ujjan police reports, "The patwari is brother of the woman's husband Mahesh Nigam. Mahesh and his son were killed in March, 2011 and Ramesh was an accused. We have taken both women in custody and interrogation is going on."
Article reviewed on Oye! Times at www.oyetimes.com