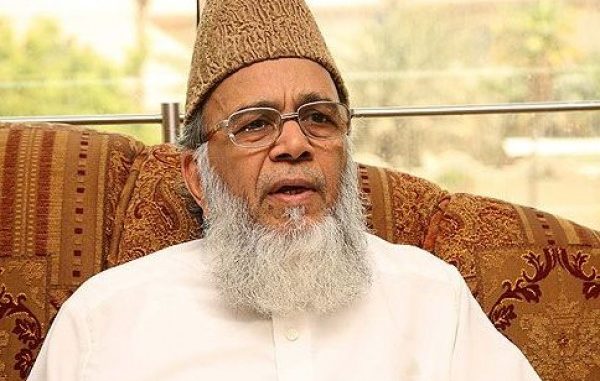 Urging people to cast vote in the upcoming election, Jamaat-i-Islami leader Syed Munawar Hassan said the only way to defeat feudalism, capitalism and exploitive forces is by using the power of your vote and choosing the right leader.

Syed Munawar was addressing a party gathering held in Quetta on Sunday. He said corruption has a trickle-down effect: corrupt leaders taint societies while corruption-free governments are indispensable for establishing a corruption-free society.

He praised the undying efforts of his party workers and supporters who do not have thirst for power but instead strive to bring an Islamic system in Pakistan. He also stated his agenda of demolishing all the powers that have been blindly following the United States and giving it priority over Pakistan.

"JI is taking part in elections but they do not consider the election as the way forward to revolution as revolution is the name of change of complete system," he remarked.

Syed Munawar also questioned the integrity of IMF and World Bank which might be helping the United States in achieving its mission of destroying the economy of third world countries. He strongly condemned drone attacks and held the United States responsible for infringing the sovereignty of Pakistan.

"NATO forces have destroyed Afghanistan and it is our neighboring country and we salute the Jehadi spirit and courage of Afghans," he added.

Referring to the dictators, Syed Munawar criticized Musharraf for violating the Constitution, assassinating Nawab Akbar Khan Bugti and imposing emergency in the country. He said he fails to understand how such a person manages to move freely in the country.

"JI has lodged a petition of abrogation of the Constitution against Musharraf," he added.