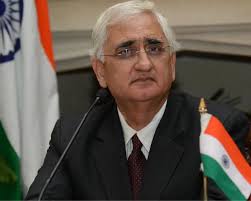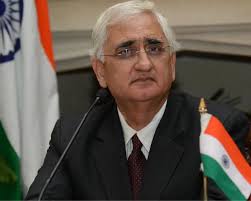 The Bharatiya Janata Party's (BJP) spokesperson, Nirmala Sitharaman this Tuesday burst out at the External Affairs Minister, Salman Khurshid, over the his statement that the BJP's prime ministerial candidate Narendra Modi cannot be the one to promote Indias Image that is he can certainly not be the brand of ambassador of India. The BJP leader said today, 'Salman Khurshid's statement on BJP's PM candidate Narendra Modi is disgraceful.'

'Hope US will apply uniform standards of human rights in dealing with Modi. He cannot be the brand ambassador of India who can sell India's growth story to the west,' said Khurshid today while talking to a local news channel. He also added that in the past, America was one of those counrties which used to lecture India on human rights. He said that it will interesting to 'know what Powell tells Modi.'The US Ambassador to India, Nancy Powell is likely to meet Narendra Modi, which shows that there is a shift in America's stand towards the BJP's PM candidate. The Gujrat riots seem like an old story for US now.

Furthermore while lashing out at Narendra Modi, Khurshid explained that, 'Narendra Modi can't represent Indian values. We are a country that believes in Gandhian way of life, compassion, service without recognition and none of these terms applies to Modi.' Meanwhile, the External Affairs spokesman Syed Akbaruddin said it was very normal and no big deals for foreign embassies like US to make a request for meetings with "constitutionally-elected functionaries" of India. In 2005, the US State Department had revoked a visa that Narendra Modi had for traveling to the United States of America in the wake of riots in Gujarat in 2002.