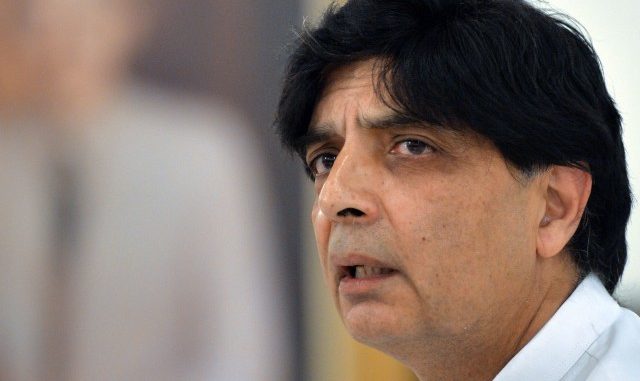 Pakistan's Interior Minister Chaudhry Nisar Ali Khan said this Thursday that carrying on with the peace talks with the TTP amid the on-going terrorist attacks throughout Pakistan would be complete injustice to the victims of such attack. Speaking at the press conference held today, he said that Prime Minister Nawaz Sharif as well as the military leadership did not intend to continue with dialogues amid these terrorist attacks.

'He (PM Sharif) wanted to eradicate terrorism through dialogue with the Tehreek-i-Taliban Pakistan (TTP). Sincere efforts were put in that regard by forming a negotiating committee,' informed the minister. 'However, citing recent terrorist attacks, the government has decided to counter force with force upon consultation with the country's military leadership.' This statement came after about 40 militants were killed earlier today as fighter jets bombarded suspected insurgent hideouts in three tehsils of the North Waziristan. Chaudhry Nisar also reiterated that the peace talks and the terrorist attacks cannot go side by side. The TTP spokesman Shahidullah Shahid said this Wednesday they would agree to a ceasefire only if the government negotiators could assure that there would be no more targeting of their members. During the press conference, Chaudhry Nisar informed that the deadlock in peace talks persists but now the government's peace initiative will only continue with the militant groups who believe in the dialogue process.

The minister also said that the government did not carry out any military action against the talibans since the inception of the peace process. 'What else could the government have done to show its sincerity of observing a ceasefire,' he questioned. The Pakistan Muslim League-Nawaz (PML-N) member, in a very obvious reference to the Pakistan People's Party (PPP), said those who are demanding the military offensive should have carried it out during their five years of power.