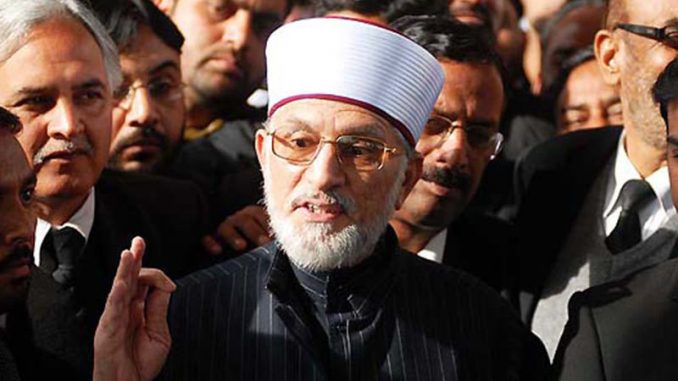 Dr. Tahirul Qadri, the chief of Pakistan Awami Tehreek (PAT) this Saturday evening announced a ten point charter of demands to the government after bringing his Inqilab march to Islamabad. He started the speech by informing all his PAT supporters that the additional judge in Lahore has concluded that the Prime Minister as well as the Chief Minister of Punjab are responsible for the Model Town incident and further ordered an FIR to be registered against the two leaders and 21 others who are held responsible.

"This is a democratic, peaceful and green revolution. We want a peaceful change, reforms in the system. It will be wrong to say we don't believe in democracy. We want true participatory democracy. Democracy doesn't mean just casting votes after five years. It is not the totality of democracy. It is a system of accountability. Democracy means free and fair elections, which never existed in Pakistan," said Dr. Tahirul Qadri while starting his speech further adding that "We need a change for a true democracy. This system is oppressive and totally based on injustice."

His ten points included the following: 1. Restoration of legal and constitutional rights of people 2. Provision of basic necessities (including shelter, food, jobs, education and medical faculties at doorsteps) and elimination of hunger, poverty, unemployment. 3. Elimination of terrorism/extremism 4. Accountability 5.Democracy: No martial law will be tolerated in Pakistan 6.Electoral reforms 7. Devolution of power 8. Minority rights: The revolution will put an end to the practice of declaring minority Muslim sects as non-Muslims. 9. Autonomy for district governments and finally 10.Creating at least 23 new provinces in the country.