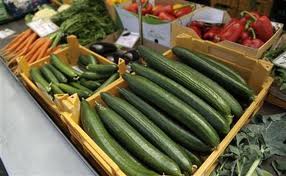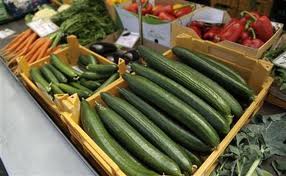 AFP is reporting that 14 people have died and hundreds are sick in an outbreak of a highly virulent strain of bacteria apparently found on cucumbers imported from Spain. Belgium and Russia have now banned the import of all vegetables from Spain with the Spanish government saying it will seek financial compensation from the European Union for lost sales. First reported two weeks ago in northern Germany, the outbreak has now left the number of confirmed or suspected cases topping 1,200. Authorities are warning everyone against eating raw vegetables after traces of the bacteria were found on organic cucumbers from Spain last week.
The cause of this sudden outbreak of enterohaemorrhagic E. coli (EHEC) remains unknown to officials but the dangers of it are well documented. E. coli can cause haemolytic uraemic syndrome (HUS), a disease that causes bloody diarrhoea and serious liver damage and possible death. The disease can also lead to total kidney failure and it is reported that nearly a third of the patients being treated the Eppendorf University Clinic in Hamburg had lost all kidney functions and were on dialysis.
While other countries including Britain, Denmark, Sweden and the Netherlands are reporting cases, most appear to involve people who had recently travelled to or from Germany.
Jan Galle, director of the Luedenscheid clinic in western Germany, was quoted as saying, "Normally we see about 1,000 cases per year, but we've now had some 1,200 cases in just 10 days. And we know that this time the EHEC strain is especially virulent and resistant and has led to a very high number of HUS cases," he added.
While it is thought that Spanish cucumbers are the source of the E. coli, it remains unclear as to when and where they were contaminated. Spanish authorities are testing both water and soil samples at two cucumber farms but this does not rule out that the contamination may not have occurred elsewhere in the food chain. Despite the gravity of the situation, no one wants to jump to any conclusions. Everyone wants to be sure of what's at fault. The European Centre for Disease Prevention and Control has stated that the HUS/STEC outbreak is the largest in the world of its kind.
(Australian Broadcasting, Time, Guardian)
Associated Press – May 30/2011
Tainted Vegetables Kill, Sicken People in Europe
Austrian officials inspect supermarkets for Spanish vegetables suspected of contamination with a potentially fatal bacteria that has sickened hundreds of Europeans. In Germany, the death toll from the outbreak rose to 11.
Click HERE to read more from William Belle
Article viewed at: Oye! Times at www.oyetimes.com