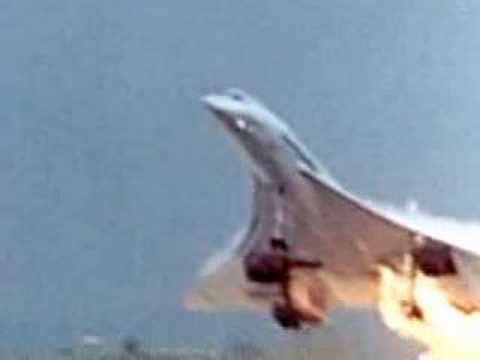 It is now being reported that French courts have determined that Continental Airlines was criminally responsible for the 2000 crash of a Concorde at Charles de Gaulle Airport in Paris. A piece of metal fell off a Continental jet onto a runway. When the Concorde followed shortly thereafter, that same piece of metal caused a tire-burst which in turn ruptured the fuel tank. 4 people on the ground as well as all 109 passengers and crew were killed.
http://www.youtube.com/watch?v=Qid2s89OfZU
John Taylor, 42, the mechanic, was found guilty of manslaughter. He was fined $2,650 and given a suspended 15-month prison sentence.
Continental Airlines itself was fined 200,000 euros.
The BBC stated:
The judge in the case confirmed investigators' finding that titanium debris dropped by a Continental DC-10 onto the runway at Charles de Gaulle airport before the Concorde took off was to blame. John Taylor should not have used titanium parts to make repairs on the DC-10 because it was known to be too dangerous to aeroplane tyres, and he should have used aluminium instead, a softer metal, the court found.
Air France did reach a settlement in 2001 of approximately $150 million with the families of those killed in the crash. It will apparently seek to recoup some of that money from Continental. Continental still disputes this interpretation of the events and says it will appeal.
This court case comes 10 years after the crash of Air France Flight 4590. It is the only fatal accident involving the Concorde which took its maiden flight in 1969. This effectively hastened the end of all commercial operations of the plane which were apparently not profitable for its two operators, Air France and British Airways. The plane was taken out of service in 2003 by both airlines.
Only 20 Concordes were ever built and just 14 were used commercially. The plane had a maximum cruising speed of 1,350 miles per hour and was capable of flying from London to New York in less than three and a half hours.
Click HERE to read more from William Belle