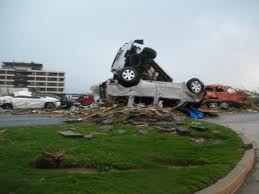 You can publish this article on your website as long as you provide a link back to this page.
This article was last updated on April 16, 2022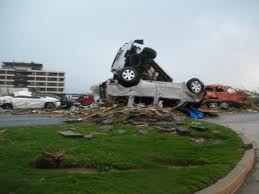 As the death toll in Joplin rose to 125 with over 232 remaining unaccounted for, more tornados appeared in several locations leaving a deadly mark. Sedalia, east of Kansas City, had a four-block area damaged and 15 people injured when a tornado touched down. 14 people were killed in Oklahoma between Tuesday night and Wednesday morning.
The following article from Britain's Daily Mail has some unbelievable pictures of Joplin, Missouri.
The Daily Mail – May 26/2011
The six-block scar: Amazing satellite photos pinpoint devastation of Joplin as it emerges that 232 people are still missing
Following the devastating tornado which ripped though Joplin at the weekend, these satellite images show the extent of the damage. Before and after aerial photos show the shocking extent of the damage caused by the twister in the Missouri city – this image shows a six-block path of destruction. Authorities say it's the deadliest single tornado in America since modern record-keeping began over 60 years ago. It's claimed the lives of at least 125 people and reports now say that 232 people are still missing.
http://www.dailymail.co.uk/news/article-1391075/Joplin-tornado-photos-devastation-232-missing.html
AssociatedPress – May 25, 2011
No New Survivors 3 Days After Joplin Tornado
Rescuers refused to be deterred from their efforts to find survivors beneath Joplin's piles of tornado rubble, even as the death toll rose Wednesday to 125. No new survivors had been pulled from the wreckage but determined crews carried on.
[God, look at the dead cows!]
Tornado Hits St. Louis Airport – April 22, 2011
http://www.youtube.com/watch?v=wE0kuADpNcQ
Apr 28, 2011
Alabama Tornadoes 2011: Massive Tuscaloosa Twister Filmed (VIDEO)
Tuscaloosa, Alabama — a city of over 83,000 and home to University of Alabama — was one of the hardest hit areas in the state. The mayor said that the city's police and emergency services were devastated, and has reported at least 15 deaths, with over 100 people in a single hospital as a result of the storms.
http://www.youtube.com/watch?v=-vJ9rvtfALI
Uploaded by TornadoAlleyVideo on May 23, 2011
Joplin MO Tornado May 22 2011.mov
Storm Chasers Jeff Piotrowski and Kathryn Piotrowski tracked the Joplin Tornado through the city of Joplin, MO. This is just a small sampling of the video that was shot during this severe weather event. Jeff and Kathryn were first on the scene of the tornado's destructive path and stopped to help pull persons out of the rubble. Also Jeff Facebooked and Tweeted sending out pleas for help. Tragic, this tornado will go down in the history books.
References
Wikipedia: Tornado Alley
Tornado Alley is a colloquial and popular media term that most often refers to the area of the United States where tornadoes are most frequent. Although an official location is not defined, the area between the Rocky Mountains and Appalachian Mountains is usually associated with it.
Wikipedia: May 2011 tornado outbreak
The May 2011 tornado outbreak is an ongoing tornado outbreak across the Midwestern United States, particularly from Lake Superior south to the Red River area. One especially destructive tornado resulted in catastrophic destruction in Joplin, Missouri, and at least 116 deaths, the deadliest US tornado since one that hit Flint, Michigan, in 1953 which also killed 116. Killer tornadoes were also reported in Minnesota and Kansas.
Wikipedia: Enhanced Fujita Scale
The Enhanced Fujita Scale (EF Scale) rates the strength of tornadoes in the United States based on the damage they cause. Six categories from zero to five represent increasing degrees of damage. The scale remains a damage scale and only a proxy for actual wind speeds.
Wikipedia: April 25–28, 2011 tornado outbreak
An extremely large and violent tornado outbreak, the largest in United States history and popularly known as the 2011 Super Outbreak, occurred from April 25 to 28, 2011. The outbreak affected the Southern, Midwestern, and Northeastern United States, leaving catastrophic destruction in its wake, especially across the state of Alabama. It produced destructive tornadoes in Alabama, Arkansas, Georgia, Mississippi, North Carolina, Tennessee, and Virginia, and affected several other areas throughout the Southern and Eastern United States with a total of 327 tornadoes confirmed in 21 states from Texas to New York and even isolated tornadoes in Canada. Widespread and destructive tornadoes occurred on each day of the outbreak, with April 27 being among the most prolific and destructive tornado days in United States history. At least 344 people were killed as a result of the outbreak.
Click HERE to read more from William Belle
Article viewed at: Oye! Times at www.oyetimes.com