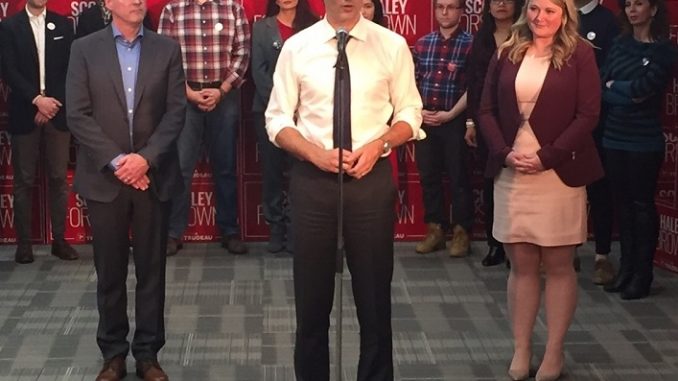 Canadian Prime Minister Justin Trudeau visited Calgary on Wednesday in order to gather support for two Liberal candidates, Haley Brown and Scott Forsyth, in the upcoming by-elections. Addressing the supporters, Trudeau stressed that it wouldn't be an easy task to win the seats previously held by former Prime Minister Stephen Harper and Jason Kenney. However, Trudeau also pointed out that not many people expected the Liberals to win two seats in Calgary in the 2015 election either.
In his remarks, Trudeau alleged that "people are tired of being taken for granted," adding that "they want a better option. And that's exactly what we're putting forward. We will not write off any corner of this country. That's what I'm doing right here. That's why I go to every byelection." Trudeau stressed that liberals have been listening to Albertans and taking action to make their lives better–including the approval of two pipeline projects. He boasted that "the previous government for all its chest-thumping about being pro-Alberta was unable to do, we actually got pipelines approved. And the way we did that is by showing leadership and responsibility on the environment. So, we know the conversations we're having at the door aren't always going to be the easiest in places that have been long-held by the Conservatives."
In his final words, Trudeau alleged that Conservatives think they can continue to take Calgary for granted, but voters are tired of that attitude.


Loading ...