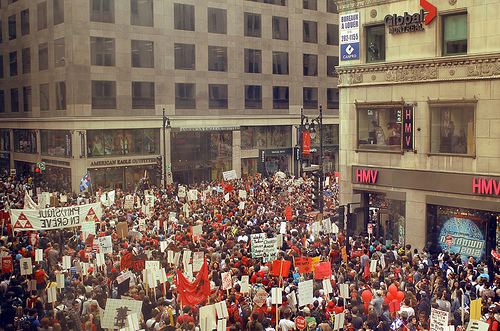 This article was last updated on April 16, 2022

Negotiations between Quebec students and government begin on a different line this Monday afternoon. This time, students do not have to worry about missing classes and how to cope with them. Their complete focus is on their demands and government's flexibility towards meeting them.
"The pressure is all on the government this time," said Martine Desjardins, president of the Fédération étudiante universitaire du Québec, one of the organizations that will be at the table.
"They have pressure from the (Montreal Metropolitan Board of Trade) about businesses downtown, the festivals coming up. They are being criticized in the international press, which is now interested in what's going on here. For us, it's strange, because every other time we were trying to save the semester."
Recently, Bill 78 was implemented in Quebec, which basically outlaws all sorts of protests that create problems for students willing to continue their studies. The bill triggered an outrage and created havoc. Eventually, the Quebec government had to suspend classes until August.
It's been over hundred days since students in Quebec are out on the streets protesting against proposed fee hike. The government, in response, says the most it can do is to put the proposal into implementation next year, and allow students to pay the ongoing fee in 2012.
Desjardins added: "In discussions, you don't have to put anything on the table. This time, the government has to address the problem by talking about tuition. That's what has me worried – that this will be a discussion and not a negotiation."
You can publish this article on your website as long as you provide a link back to this page.