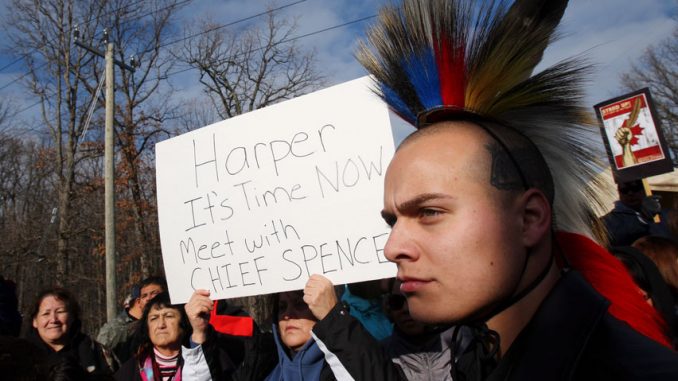 This article was last updated on April 16, 2022

The barricade around The CN Rail blockade in Sarnia, Ont., by activists protesting for the First Nations has now entered its fourth day with no solution in sight so far. Numerous members of Aamjiwnaang First Nation have gathered in groups around the railroad track since Friday as a means of calling attention towards their issue in a part of national anti-government demonstrations.
The Mayor of Sarnia, Mike Bradley, have bluntly asserted that police has no intention to proceed against the blockade unless anyone is hurt. Whereas, CN have been granted a court injunction which leaves the police responsible to decide whether or not to end the blockade, Bradley said. The spokesperson of the Blockade, Ron Plain, claimed that young Aamjiwnaang First Nation members are protesting for a just cause, who met Sunday with representatives from CN, along with Bradley and police chief of Sarnia.
The protesters have gathered in groups around tables, tents and vehicles which are stationed around and on the rail track, since Friday as a part of their 'Idle No More' protests against the omnibus budget Bill C-45, which eliminates federally protected waterways and facilitates the sale of reserve lands without consultation. The protesters warn that this blockade will not end until the Prime Minister Stephen Harper convenes with Attawapiskat Chief Theresa Spence, who has been on a hunger strike for bringing public attention to aboriginal issues.
The spokesperson for CN Rail, Jim Feeny, claimed that the rail company has requested the government and police for beefing up the negotiation process and try to bring about a peaceful settlement. Feeny added that the stoppage has begun affecting CN customers as propane shipments fail to reach Canadian consumers.
You can publish this article on your website as long as you provide a link back to this page.