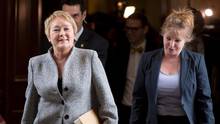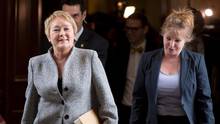 Quebec Premier Pauline Marois has been entangled in yet another controversy as her summit on postsecondary education reaches its initiation, which is deemed to accomplish an election campaign promise of dealing with the a malicious dispute over university tuition fees.

A student group at the centre of last year's protest, ASSÉ, has already declared its decision to boycott the upcoming meeting as it kicks off on Monday. The group gave up on any reconciliation with the government after Ms. Marois denied to even consider its demand of abolishing tuition fees. In retaliation, the group has planned a grand demonstration on Tuesday after the meeting winds up. Analysts are predicting that busloads of students will be pouring in from Quebec City, along with other parts of the province, to take part in the protest. ASSÉ has previously acclaimed to have been representing 70,000 students. To further weaken the government's odd in the conflict, its own former PQ premier, Jacques Parizeau, has announced to support the abolition of tuition fees.

Having said that, some analysts conclude that there might be not as lengthy strikes of students as last year since this time students are also split among themselves. A group of more moderate student, who are already participating at the meeting, want tuition frozen. In that case, Ms. Marois has offered a counter solution as she proposes an indexed tuition fees to the cost of living, which some groups have conceived as a hike. It is worth noticing that students of Quebec are currently paying almost $2,200 per year in tuition, which is the lowest in the country.