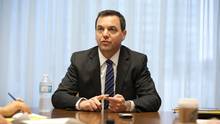 This article was last updated on April 16, 2022

While making a strong statement against Chrysler, the leader of province's Progressive Conservatives Ontario, Tim Hudak, stated that Ontario is being "held hostage" by the company and so it should refuse to pay the company's "ransom." Mr. Hudak alleged that Ontario should straightforwardly refuse to accept the offer made by Chrysler's CEO, Sergio Marchionne, who sought taxpayer dollars in order to help expand the company's operations in Windsor and Brampton, Ont.
Several media outlets have speculated that the company seeks more than $700-million in public funds. Making a statement while at Queen's Park, Mr. Hudak alleged that "should we pay a nine-figure ransom to Chrysler? Of course not," and added that "we should use the money to lower taxes so all companies can create jobs, not handouts for the very few." Chrysler already owes the federal and Ontario government's approximately $800-million from the taxpayer-funded rescue plan during the recession. Mr. Hudak highlighted that the province has made a dangerous mistake by giving money to technology company Cisco, as it will only encourage other companies to demand "corporate welfare" if it makes a deal with Mr. Marchionne.
Mr. Marchionne previously mentioned in Toronto earlier this month, that whatever remains of the $2.9-billion the federal and Ontario governments loaned to his company in 2009 is not his debt to pay back. He alleged that the loan was granted to a predecessor company that is not related to the new Chrysler that emerged from Chapter 11 bankruptcy protection under control of Fiat SpA later that year.
You can publish this article on your website as long as you provide a link back to this page.