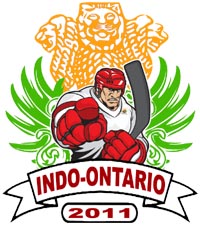 The 2nd Indo-Ontario Cup 2011 Ball Hockey Championship stage has been set in Brampton. The tournament will be held at South Fletchers Sportsplex, 500 Ray Lawson Blvd. It will take place over the weekend of Friday June 17, 2011, Saturday June18, 2011, and Sunday June 19, 2011. Come join us for our opening ceremonies on Friday June 17, 2011 at 8:00 PM. Open ceremonies will consist of ribbon cutting ceremony and a ceremonial ball drop.
A host of dignitaries will be present for the ceremonies.
The tournament will be composed of three levels of competition: Pool A, Pool B, & a JR division. We will also be hosting a "Learn to Play" program for kids under the ages of 12. We are still accepting player & team registration. For more information, please visit our website www.indoontariocup.com.
In addition, we are still looking for support from our community & local businesses for volunteers & sponsorship of the tournament.
The objective of the tournament is to promote and develop the sport of ball hockey in the Indo-Canadian community in Ontario. The Indo-Ontario Cup would serve to develop the game of ball hockey with the youth and up-and-coming teams in Ontario.
The Indo-Ontario Cup would expose the teams of Ontario to the Indo-Canada Cup and to the World Championships of ball hockey, both events are held every other year, so every two years. It would provide local athletes with the opportunity to be scouted for both Team India and Team Canada.