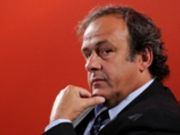 Blatter wins support of UEFA executive committee in presidential election
Monday, May 9, 2011
Sepp Blatter's bid to stay on as president of FIFA has received a huge boost after UEFA's executive committee announced it would offer the incumbent chief of world football's governing body its "unanimous support" in the upcoming election.
Blatter, who is seeking a fourth term as president, is up against the head of the Asian Football Confederation, Mohamed Bin Hammam, in the June 1 election in Zurich, Switzerland. The UEFA executive committee, in confirming its support for Blatter, has urged its 53 member associations to back the 75-year-old Swiss. Michel Platini (pictured), who served as one of Blatter's key aides before becoming UEFA president in 2007, is expected to challenge for the FIFA presidency in 2015, with Blatter having insisted he is seeking his final term at the helm.
"The UEFA executive committee has decided to give its unanimous support to Mr Joseph S Blatter in the upcoming FIFA presidential elections and strongly recommends all UEFA member associations to do likewise," read a statement from European football's governing body. UEFA will represent 53 of the 208 votes in the June 1 election.
Blatter is also confident of winning the support of CONCACAF, which has indicated that it will vote as a bloc. Blatter is also guaranteed of the support of South America and Oceania, which will provide 10 and 11 votes, respectively. Russian Football Union president Vitaly Mutko has additionally announced that the host country of the 2018 World Cup will support Blatter. "We appreciate everything Blatter has done for world and Russian football," said Mutko.
Source: SoccerEx Business Daily
Brazil World Cup preparations will accelerate – Sports Minister
Monday, May 9, 2011
Brazilian Sports Minister Orlando Silva has insisted the country's preparations for the 2014 FIFA World Cup will be accelerated by the end of this year.
Work on most of the 12 stadia has been hit by increases in costs while concerns remain over transport infrastructure upgrades, particularly with regard to the nation's airports. Revamp work at airport terminals was handed over to private companies last month in an effort to meet the deadlines.
"FIFA has been systematically following Brazil's preparations and knows the effort the country is making to comply with all the demands," Silva told the Radiobras programme 'Good morning minister'. "I believe that as we move from 2011 into 2012 the perception of Brazil will change because work on the stadia at that stage will be very different. I'm confident of that turning point."
Venues at Sao Paulo and Natal are considerably behind schedule, while the Maracana in Rio, slated to stage the final, has required a huge budget increase.
Source: SoccerEx Business Daily

FIFA consultant urges India to invest in infrastructure
Monday, May 9, 2011
India has been urged to invest in developing its football infrastructure by a consultant of world governing body FIFA.
Eric Harrison told the Times of India that the country needed to build on the momentum of the 'Win in India with India' programme that was launched by FIFA president Sepp Blatter in 2007. Harrison travelled to India late last week to inspect construction work at an artificial turf venue in Shillong.
"India needs to build infrastructure to promote this game," he said. "You need to have quality ground so that coaches will be able to provide proper training to young players." The All India Football Federation (AIFF) secured 10 artificial turf fields as part of the FIFA-backed programme while there are also plans to install artificial pitches at eight of the country's stadia.
"We are committed to develop football in India and we already aiding you all with the construction of artificial turfs across India besides other projects," Harrison added. "I have no doubt…India will reach its peak again in football. What they need to do now is to have the infrastructure to promote this sport."
Source: SoccerEx Business Daily
Herbalife To Serve As Title Sponsor Of World Football Challenge
MLS and CAA Sports today will announce that Herbalife has agreed to be the title sponsor of what will now be known as the 2011 Herbalife World Football Challenge, a series of soccer matches featuring international clubs to be held throughout the U.S. in July and August. Herbalife also will serve as the official nutrition company of the event, providing all participating teams with Herbalife24, its new line of sports supplements. Also being announced today is the addition of three teams to the field: Spain's FC Barcelona and Mexico's Chivas de Guadalajara and Club America (MLS).
Source: sportsbusinessdaily.com