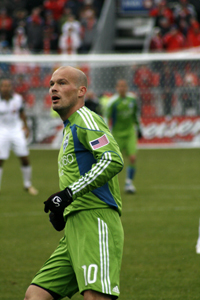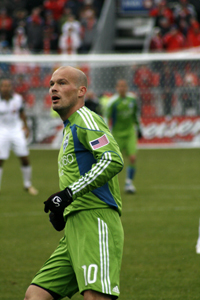 Seattle Sounders Midfielder Freddie Ljungberg
It is often said that the team that wins the game is the team that makes the fewest mistakes.
For Seattle Sounders, they made two big ones on a rainy Sunday afternoon in Toronto as they fell 2-0 to Toronto FC at BMO Field.
"For us, I think it's the best game we played all season," said Sounders midfielder Freddie Ljungberg.
"Until their first goal, we played as good as we ever played and Toronto didn't have much at all, we had possession. But I'm proud of the boys and how they played and that's why I'm so disappointed that we didn't get the three points, we thought we deserved a goal. We made two major mistakes and they scored and that's how the game ended."
Ljungberg, a former star with Arsenal in the English Premier League and Swedish international was all over the pitch and consistently in the thick of the action throughout the game. Being who he is, he certainly drew the attention of TFC defenders as they knew they had to keep Ljungberg in check to be successful.
This resulted in a couple of questionable tackles against him and his teammates in the match, especially in the opening minutes. Ljungberg was clearly upset on the field.
"I'm not complaining about it, I think it's the ref's job. I think he saw what they're trying to do and he took out 2 or 3 yellow cards after he saw the way the game was going and the game calmed down. It was a wise referee who saw what was going on and that's not how a game should be played but that's how it started and the ref did his job."
So how about the flying scissor kick by Toronto midfielder Martin Saric in the 7th minute?
Ljungberg laughs, "I may be laughing, but I've been here a year now and I try not to react on decisions. Of course I think it's a blatant yellow card or even a red card, he's flying in there but
I have to leave that to the referees. Of course I get angry but I try to keep it to myself."

Being a Leader
Ljungberg demonstrated his experience and leadership throughout the match with his great play – he often found the open man and created a lot of chances, showing flashes of old, playing just like the attacking midfielder that he has always been known as. But he was also very vocal, as he constantly communicated on the field by directing his teammates to provide better coverage and yelling at them to hustle.
"I've always been told to be a leader wherever I played but of course I try to talk to them and they ask me as well. That's why I love it – the American players, the foreigners as well, the young ones, they ask a lot of questions all the time, they want to get better, I think that's an amazing talent, if you want to call it that. They always want to learn and I think there's a bright future for the league."
But he's quick to admit the talent pool and quality of play is definitely not the same as it is in England, but that's not why he chose to play in Major League Soccer.
"Of course, I'm not kidding anyone, it's not the same as the premiership but for me, I'm here because I think soccer has given me so much in my life and I want to give something back and this is how I try to do it and if I can teach people, then that's great."

Challenge of Being a Designated Player

Ljungberg in the thick of the action against TFC
Prior to the new MLS Collective Bargaining Agreement, each team was allowed only one designated player and was often referred to as the "Beckham Rule". Being the lone designated player in the MLS seemed to be a daunting task and an obstacle for other international players thinking of playing in North America.
"I have contact with players I played with and played against and they ask a lot of questions," said Ljungberg. "But the only issue they have is a team is not one man. If you're a designated player, there's a lot of pressure on you to perform all the time."
And perhaps that is one of the reasons why the rule was changed in the new CBA to increase the number of allowed designated player slots to two per team. Teams will also have the option to purchase a third slot in the form of a luxury tax of $250,000 allocated evenly amongst the other teams.
"If the team has two free designated players then you spread the responsibility and makes things easier and that's one thing that's often reoccurring when I speak to them. Hopefully more and more will come over."
Since the new CBA was finalized just days before the start of the 2010 season, many teams were not yet able to take advantage of the new rule. It wouldn't be a surprise to see more high-profile players like Ljungberg one day playing in the MLS – hopefully sooner rather than later.