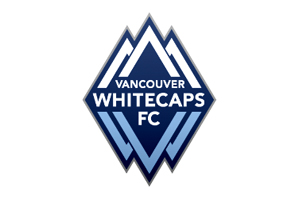 Brazilian honoured for league-high fourth time this season; seventh award for Whitecaps FC
Major League Soccer (MLS) announced today that Vancouver Whitecaps FC strikerCamilo Sanvezzo has been named the league's Player of the Week for Week 35. This is Camilo's fourth Player of the Week award in 2013 – the most for any player this season.
Camilo scored his first career MLS hat-trick on Sunday in a 3-0 win over Colorado Rapids in Whitecaps FC's season finale. With those three goals, Camilo claimed the MLS Golden Boot as the top goalscorer in the league with 22 goals in league play this season.
The Brazilian opened the scoring in the 43rd minute, when he converted a penalty kick after Kekuta Manneh was brought down in the box. In the 74th minute, Camilo nutmegged defender Drew Moor and then tucked the ball past Rapids goalkeeper Clint Irwin to give Whitecaps FC a 2-0 lead. Camilo completed the hat-trick in the 84th minute, when Russell Teibert chipped a ball over the defence to Camilo, who one-touched the ball into the bottom left corner of the net.
With his fourth Player of the Week honour this season and fifth all-time, Camilo adds to a fine season which also saw him named MLS Player of the Month in July while being selected to the 2013 MLS All-Star Game. The 5-foot-7 magician set-up the MLS All-Stars only goal of the July 31 match with a well-taken free kick that was headed home by LA Galaxy centre back Omar Gonzalez.
Last week, Camilo also took home the Dominic Mobilio Golden Boot as the team's leading goalscorer in 2013 and was named and BMO Player of the Year – the second time he was won both awards. In total, Camilo finished the season with 25 goals in all competitions, which shatters the previous record he set in 2011 (13 goals). He was also tied for second on the team with six assists in MLS.
Vancouver led MLS with seven Player of the Week awards this year. Striker Kenny Miller took home the honour in Week 16 before Camilo's first award of the season came in Week 17, followed by goalkeeper Brad Knighton collecting the prize in Week 19, and then Camilo again in Week 20. Finally, Manneh claimed the honour in Week 33 after notching a hat-trick in a 4-1 win over Seattle Sounders FC on October 9.