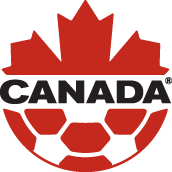 Canada will face the world's number-two ranked Germany in a Women's International Friendly soccer match this Wednesday 15 September in Dresden, Germany. This will be an important match for the Canadian team as it prepares for the 2010 CONCACAF Women's World Cup Qualifier, now just six weeks away. The Wednesday Canada-Germany match will be played at the Rudolf-Harbig Stadion with an 18.00 local kick off (12.00 ET / 09.00 PT).
"We are ready to play Germany tomorrow and feel it is an important match for us against one of the best teams in the world," said Canadian head coach Carolina Morace. "The match tomorrow will give us another opportunity to continue to build for the future."
On Tuesday morning, Canada trained for 90 minutes at Rudolf-Harbig Stadion under a light drizzle, which were similar conditions expected for Wednesday's evening match.
The Canada-Germany match is one of two Women's International Friendly matches that Canada will play this month. After Dresden, Canada returns to Toronto to prepare for the home date with China PR on 30 September. The home match will be played at BMO Field with a Thursday 19.30 local kick off (19.30 ET / 16.30 PT).
Canada and Germany have met before on the international stage, but not since 2005. The 2010 away match is part of a home-and-away series that will bring Germany to Canada in the fall of 2011, after next year's FIFA Women's World Cup in Germany and before the 2012 CONCACAF Women's Olympic Qualification in Canada.
As for Germany, this will be one of three final matches to be played before the end of their season in November before players return to their club teams. In 2011, the German professional league will finish in April to ensure players have additonal time to prepare for the FIFA Women's World Cup Germany 2011.
"We are taking this game seriously tomorrow and feel that it will be a tight game," said Germany's head coach Silvia Neid. "We have not had to qualify for the FIFA Women's World Cup as host country, (so) we are treating all matches as must-win situations to prepare ourselves for next year's event."
Of note, Canadian veteran Diana Matheson is expected to make her 100th appearance on Wednesday night. She is now fully recovered from a broken foot suffered in March of this year.
"I am really looking forward to the match having waited to return to play, especially playing such a great team as Germany," said Matheson. " This will be a tough match to win and it is important for us to execute what we learned in training and to have a good match heading into Mexico (for the CONCACAF Women's World Cup Qualifiers)."
Canada, whose title sponsor is Winners and presenting sponsor is Teck, has one of the top women's programs in international football. It has qualified for four consecutive FIFA Women's World Cups dating back to 1995 and is currently ranked second in CONCACAF behind the world's number-one ranked USA. Tickets to Canada's home Women's International Friendly match against China PR on 30 September are available now via Ticketmaster (Ticketmaster.ca / 416.872.5000), the BMO Field box office and the Ontario Soccer Association (for group sales).