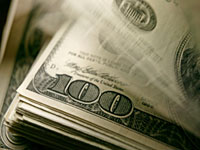 This article was last updated on April 16, 2022
Canada:

Oye! Times readers Get FREE $30 to spend on Amazon, Walmart…
USA:

Oye! Times readers Get FREE $30 to spend on Amazon, Walmart…

Companies are hoarding a record amount of cash as fears of another Lehman-like credit crisis, weak demand and a lack of incentives from the Obama Administration cause chief executives to choose a negative real return on their money over hiring workers or building a new plant.
The current members of the S&P 500 are sitting on about $800 billion in cash and cash equivalents, the most ever, according to data by Birinyi Associates, even as the unemployment rate has ticked back above 9 percent. Most of this cash and cash equivalents are likely yielding at or below the current 3.6 percent annual rate of inflation, giving it a negative real return.
"Companies are still gun shy from the credit crunch," said Dave Lutz, managing director of trading at Stifel Nicolaus. "And why hire if there is no demand? Stay variable with temporary workers."
This ultra-conservative outlook runs contrary to what the Federal Reserve said about the economy Wednesday. In its monetary policy statement, the Fed said that it expects energy and other rising costs to abate, causing companies to hire and the economy to recover from its current soft patch.
It's also a rather unusual development for an economy that is supposed to be in the second year of the economic recovery following the colossal credit crisis that took down Lehman Brothers in 2008.
"This is a systemic problem post Lehman," said Larry McDonald, the New York Times best selling author of 'A Colossal Failure of Common Sense, the Lehman Brothers Inside Story.' "After a near death experience with the capital markets closed for a record 18 months, they've raised cash now and are cautious. Imagine if you're a CFO and you went through this near death experience."
The Federal Reserve and President Obama have tried to fill that void. Fed Chief Ben Bernanke was the lender of last resort for banks during the credit crisis and has continued to keep interest rates at zero to encourage some risk taking. Obama pushed through an $800 billion stimulus bill, extended the Bush tax cuts and added a payroll tax holiday. Yet executives still continue to fear an increase in labor costs and higher taxes under this administration.
"Labor costs have increased and may further increase as new policies, such as healthcare, kick in," said Stephen Weiss of Short Hills Capital. "It is my belief that some companies are waiting for a stimulus package from Washington, whether it is an R&D credit or some other mechanism, to increase investment."
Take Lehman and Obama out of the equation and you still have companies utilizing just 77 percent of their capacity. During past bull markets, that figure was well above 80 percent at this point, triggering companies to add new plants and new workers.
"Companies hire because they have more work than their current staff can handle," said Patty Edwards, chief investment officer for Trutina Financial. "Hiring is a long term commitment and there's no long-term visibility at this point."
To be sure, relative to market value, cash levels have come down. Cash and cash equivalents as a percentage of the S&P 500's market capitalization is 7.4 percent, down from a high of 9.2 percent at the start of the bull market, according to Birinyi.
However, this is still well above the 5 percent average during the last bull market, raising the ire of someone else besides the unemployed…shareholders.
"I understand why companies want the flexibility that a cash cushion provides, given the lesson of how dangerous it is to be at the mercy of financing markets, however, some companies have way, way too much cash," said Karen Finerman, president of Metropolitan Capital Advisors and a 'Fast Money' trader. "We should do a call to arms to return cash to shareholders."
For the best market insight, catch 'Fast Money' each night at 5pm ET and the 'Halftime Report' each afternoon at 12:30 ET on CNBC.
You can publish this article on your website as long as you provide a link back to this page.