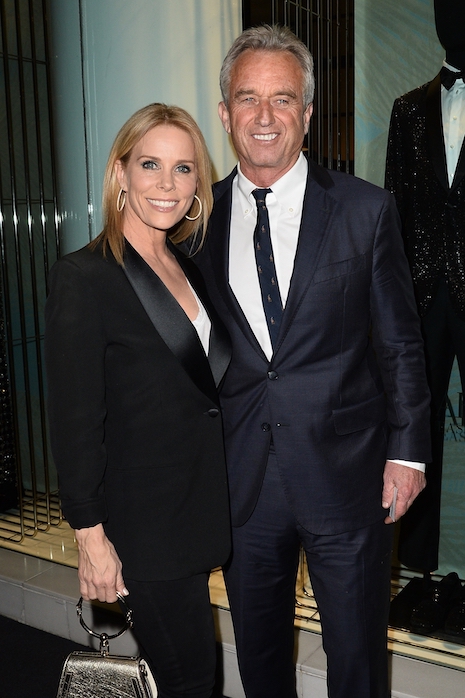 This article was last updated on June 7, 2023
Canada:

Oye! Times readers Get FREE $30 to spend on Amazon, Walmart…
USA:

Oye! Times readers Get FREE $30 to spend on Amazon, Walmart…
Cheryl Hines and Her Complicated Life
Poor Cheryl Hines. The Curb Your Enthusiasm actress has been known to walk a fine line between her well-connected Hollywood friends and her unconventional thinking husband Robert F. Kennedy Jr. Cheryl's already lost a few friends due to Bobby's anti-vax beliefs and conspiracy theories on the Covid vaccines. (Remember- he wrote an anti-Dr Fauci book) Now that he's running for President, our source says Cheryl's social life is in decline.
Cheryl's Endorsement of Bobby's Candidacy
As soon as Cheryl publicly endorsed her husband's long shot candidacy, more of her remaining friends jumped ship! My source says that a number of Cheryl's friends are avoiding her calls and stopped inviting her places. She went from popular to social outcast in a matter of weeks. That's not what you expect when you marry a Kennedy!
Cheryl's Social Life is in Trouble
Cheryl finds herself in a difficult position. She loves her husband and supports his beliefs, but she can't ignore the fact that her social life is in trouble. According to our source, Cheryl is feeling isolated and hurt by the reaction of her friends. She's trying to reach out and repair the damage, but it's not going well.
Cheryl and Bobby's Relationship
Cheryl and Bobby's relationship has always been complicated. They come from very different worlds, and their beliefs don't always align. However, they have a deep love for each other that has helped them navigate their differences. Bobby's decision to run for President has put a strain on their relationship, but Cheryl is standing by her man.
The Future for Cheryl and Bobby
It's unclear what the future holds for Cheryl and Bobby. Bobby's candidacy is a long shot, but if he were to win, it would be a game-changer for both of them. Cheryl would become the First Lady, and her social life would no doubt improve. However, if Bobby loses, they will have to deal with the fallout and the impact it will have on their relationship.
You can publish this article on your website as long as you provide a link back to this page.