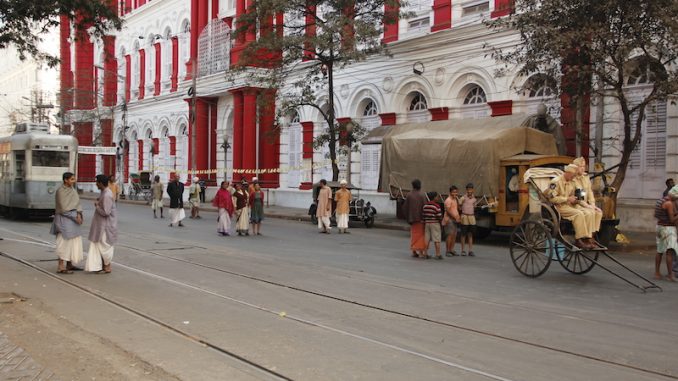 You can publish this article on your website as long as you provide a link back to this page.
This article was last updated on April 16, 2022

For a particular chase scene, Dibakar Banerjee wanted to shoot on a live location in Kolkata to get an edgy, gritty feel to his neo-noir adaptation of Byomkesh Bakshy.
The location that he chose was next to impossible to shoot in – In the heart of Central Business District in Kolkata, also known as BBD Bagh or Dalhousie Square. It's a stone's throw away from the Governor's House, and also an area of highest security.
Moreover, to make it look like a street of 1943 was a gargantuan task, as apart from the magnificent structure of Central Telegraph Office (CTO), which has been standing in the same place since 1878, nothing else would fit in.
However it became possible with the wholehearted support of Kolkata Traffic Police, Kolkata Municipal Corporation & Central Tram Corporation (CTC).
On the day of the shoot the streets were swarming with more than 400 junior artists dressed in period costumes, jostling with 40 vintage vehicles of that era. Elaborate traffic diversion plans were carried out by Kolkata Traffic Police so that the normal life remains unaffected. At the last moment news arrived that that Prime Minister was visiting the Governor House the same day. So the production team had to be in tandem with the SPG of PM's security regarding the Traffic movement.
Kolkata Police also allowed a Raj-era police bike kept in the Police museum to be taken out of the museum for the first time, and be used as a running vehicle on the shoot. It's a Traffic Sergeant's bike with a side car. In those days it wasn't an uncommon site to find Anglo-Indian & British Traffic Sergeants doing their customary round of the city on the bike.
CTC allowed the team to use two of their oldest trams, one of them dating back to pre-1947 era.
It took them 18 non-stop hours to take a live street of 2014 back by 71 years and make it into a street of 1943. With the help of Kolkata Municipal Corporation they took off all the contemporary street structures, pavement railings, traffic posts, Trident lamp posts and replaced them with period correct structures. They repainted all the street signs, zebra crossing, water hydrants etc to what they looked like in 1943. They also got the real Traffic Police & Mounted Police personnel to don period-correct costumes of pre-independence India and got them to act out as themselves in the shot, for authenticity.