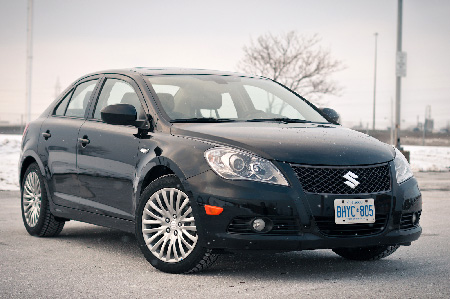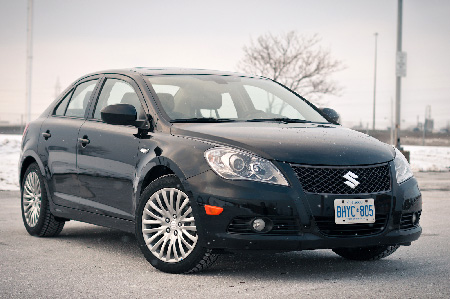 It's not often we speak of Suzuki. And when I usually do, it's about their motorcycles. It comes as no surprise really, Suzuki established its motorcycle division in North America back in 1963, and to date they've got a very competitive line-up of two wheeled offerings. In comparison Suzuki established its US head offices in 1985. When it made its way up to Canada it was 1989 with an assembly plant in Ingersoll, Ontario and it was a bit late to the game. By this point in history the other Japanese automakers were well on their way to taking the N.A. auto industry by storm. Suzuki was not able to pick up the kind of momentum the other automakers did, and has been languishing since.
But with 2011, there seems to be change in the air. Suzuki warns of storms of their own, their new mid-size sedan shows no sign of wavering. Since the release of the Kizashi in N.A. the automotive press have applauded it endlessly. A lot of it has to do with the simple fact that no one expected this car, from this manufacturer.

Reviewing the 2011 Kizashi
Well, here it is. So let's get down to it, ready to find out if the Kizashi really is the next great thing?
Let's start on the inside, where the driver sits, where the driver who buys this car will want to spend most of their time. This is a clean interior, very well laid out, and easy to understand. Everything feels good to the touch; all the materials and elements feel great, and look good too. It seems the Suzuki accountants looked at this section of the car and when they tried making changes, were chased away by rabid designers (something I wish happened more often).
What about comfort? Well, I managed a continuous three hour drive with little discomfort; good lumbar support equipped soft leather seats aiding things here. The suspension is geared for a more sporty drive, so I was feeling some of those bumps, but found it no way a damper on my mood; but more on that later. What didn't really work for me -or rather my poor friends- were the rear seats. I had three average sized men sit at the back, and they were all but ready to strangle me. Even with two regular sized adults leg room is a bit cramped, and so is head space. Actually when it comes to the mid-size segment, the Kizashi scores fairly poorly on interior dimensions.
But if you bought a Kizashi, you wouldn't be a passenger, and if you're driving a mid-size car in this price range, well, there really isn't another car you'd rather be in. This really is Kizashi's trump card; the car handles like nothing else in this segment, for proper comparison find a BMW 3-series. And that's high praise for any mid-size. I mentioned earlier that I was feeling some of those bumps I drove over, but with a suspension that allows a car to handle this well, I think it's astonishing that I wasn't feeling more of those bumps.


Then of course there's this very crisp 2.4L 4-cylinder engine giving us 180hp and 170 lb. ft. of torque. This gets mated to a CVT (Continuously Variable Transmission) with paddle shifters in my test car; the only thing I didn't like was the lumbering sort of transmission which wasn't doing much in making me feel sporty. But helping with that is this beautifully body integrated dual rear exhausts that have a throaty sort of growl that is pleasing to hear, and encourages you to hold a lower gear and rev -which the previously mentioned "lumbering" transmission allows- right up to red line.
For those overly safety conscious or living on streets that never get ploughed in the winter, the All Wheel Drive system will put your mind at ease, and so will the very effective traction and stability control systems –yes, I did put it to the test in a very remote and empty private parking facility covered in ice–.
At the time of my test, Suzuki offered the Kizashi in just one trim level. It included everything but the kitchen sink for about $30k. Not bad for a car that wants to compare itself to the likes of the Acura TSX and Audi A4. For those who want the Kizashi look and drive, but want to spend less, there's now an offering of a FWD only option with a few less luxury touches –like leather interiors– for about $26k.
Now once you've taken the Kizashi of your choice out for a long drive, had lots of fun, and make it back home, you get out of the car, look back and realize that it looks amazing. Lines that flow from one to another smoothly, an elegant and sporty silhouette, along with those 18-inch wheels that come standard, all work in harmony to make this one really good looking car.
There's only one other mid-size sedan that I like more than I do the exterior of the Kizashi, and that's of the Buick Regal (you can read my review of it here); Which is quite a statement if you think about the fact that there are over 15 different mid-size cars to choose from in Canada. What's even more astonishing is the fact that I can't think of any other ground-shakingly beautiful cars from Suzuki before this one. Which is good news for Suzuki if they want us to stay focused on what's to come.

It seems just when Hyundai had pushed the limits on what a car in this class can be with it's all new Sonata, and managed to put the perennial top sellers –the Toyota Camry and Honda Accord– to shame, another Japanese car manufacturer has stepped up to the plate. With class leading features, unmatched driving dynamics, and superb value, this is one very sweet car. Suzuki has somehow done the unimaginable and struck it out of the park with the Kizashi.


Photography credit: Wilson Lo
To follow me on twitter click
HERE
Contact Kanishka Sonnadara at kanishka@oyetimes.com

Article viewed at: Oye! Times at www.oyetimes.com