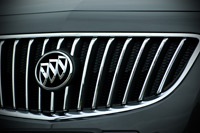 Big car, big attitude, small engine?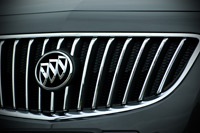 Now that's progressive thinking from General Motors. Now before you go and get all riled up about how 4-cylinder engines don't belong in a Buick; check yourself, read this review, and go test drive the new Regal.
This review was based on the Regal CXL with a few technology add-ons.

Looks and Styling
The design may be the Regal's trump card. The Buick Regal we see here in North America is virtually identical to the Opel Insignia GM sells in Europe. GM has made no effort to hide that the Regal is a copy of the Insignia; and why would they? The Insignia is a respected and well liked car across the pond.
Greeting you at the front of the car is an uncomplicated, but handsome chrome front grille, flanked by big headlamps that wrap around the edges and serve as the anchor for lines that flow through to the rest of the car. The rear quarters are reminiscent of BMW, while the rear of the car looks Acura-ish (before the company started making pointy edges and straight lines of everything). The car sits on very large 19-inch wheels that make it stand out against almost everything else on the road today.
Step inside the Regal and the impression of 'premium' you get from the outside is further enhanced by the beautifully laid out interior. It's always nice to see design cohesion amongst all the elements of a vehicle's interior, and the Regal does not disappoint.

Once you're inside, front and centre is a cluster of dials featuring brushed aluminum rings with numbers etched in to them. When lit up, the dials are beautiful to look at. The centre console and dash all flow from top to bottom with screens, knobs, and buttons that follow one unified theme. Soft touch materials and leather finish off the rest of the cabin.
There are some things however, I take issue with here. For example, the dial cluster occupies a lot of real estate, yet the numbers are small and hard to read. But honestly, I don't care. This is one of the best looking interiors I've ever seen from GM, and it really holds its own against any of the competition.

Driving Dynamics
There's no getting around the fact that the Regal is a big car; it has a commanding presence. This usually translates in to poor handling, however, that doesn't seem to be the case here.
The Regal handles just how a nicely tuned sedan should – it is comfortable, yet encourages you to pursue the joys of spirited driving. Previous generation Regals were good cars, but they suffered from handling that was mediocre at best. Buick has addressed this with a host of technology and solid engineering on the new model.
The four wheel independent suspension is one of Buick's best selling points for the Regal, as it should be, for it works wonders on this car.
The steering is taut and allows you to confidently direct the vehicle where you want it to go while the suspension is firm and doesn't lose composure under stress. The front wheel drive set up doesn't make excuses, and just delivers a great driving experience.
Being behind the wheel of the Regal makes you forget about all the great American cars of yore that were characters, but not performers. The Regal brings everything that was great about Buick and injects the brand with a healthy dose of driving prowess.

Looking at the drive train we see a 2.4L 4-cylinder engine putting out 184 hp and 172 lb-ft of torque offered as the base engine. It is small, for the purpose of being efficient, yet produces an acceptable amount of power to move this big car around.
The big surprise to a lot of people will be the second engine option. For it is also a 4-cylinder. This turbocharged 2.0L power plant belts out 220 hp and an applaudable 258 lb-ft of torque.

Quality, Comfort, and Features
"This is nice! I didn't know the Americans made cars this nice" – this was the response of a long time owner and fan of premium European sedans when given a close look at my test car.
I think that statement about sums up what a lot of people will have to say about Buick's new mid-size sedan.
Gone are the days where GM vehicles had tacky plastic and panels that didn't line up. As hard as my colleague and I tried to find faulty workmanship, or poor quality materials, there really wasn't anything that stood out as being amiss in our test car.
Whether driver or passenger, the front seats are fully powered and include excellent lumbar support. Stepping out of the car after a four hour continuous drive, I felt great, and really appreciated the supportive and comfortable seats.
Some may take issue with a Buick that has a stiff ride as this one does, but I don't find it to be even remotely uncomfortable. It was a rather good balance of sporty and comfy.
This is a feature laden car and with some optional equipment you really do a get a whole world of goodies. The optional navigation and entertainment package is a must have. The upgraded sound system features a 320-watt harmon/kardon setup which is by far one of the best sounding ones I have heard in a car from this segment.
You'll find the navigation system is well rendered, and combined with GM's satellite based OnStar service, an indispensable convenience. There are some quirks with regards to the control setup of the system and I found it to be less than user friendly, but overall the feeling was positive.
Nestled in between the dial cluster, behind the steering wheel there's a trip computer that does more than tell you your odometer reading. It shows instant and average fuel economy, expected range, it can give you turn by turn navigation instructions, tell you what your individual tire pressures are, and even the life of your oil and when the next service is due.

Price
For the 2011 model year, the Buick Regal is being offered in two trim levels: the CXL starting at $31,990 and the CXL Turbo starting at $34,990. Our test CXL with upgraded entertainment/navigation and technology package cost a touch under $39k.
As an overall package the Regal does a commendable job of holding its ground as a good combination of a premium and value vehicle.

Verdict
It's been a little over a century for GM's oldest brand Buick but is undergoing yet another revitalization. With this new iteration of the Buick Regal, GM hopes to bring in a new generation of buyers to the brand.
It is no secret that the average age of the Buick buyer is about 70; in comparison the average age of the North American car buyer is around 50. Buick's new direction and aim is to lower this age, and bring in younger buyers to the brand. Now "younger" doesn't mean people in their 20s, stated Craig Bierley, Director, Buick GMC Advertising and Sales Promotion. Younger is relative, he says, and refers to people in their 40s and 50s.
On that standard alone I think that Buick has got the puck in the net with the new Regal. It's bold design and commitment to driving prowess will appeal to a younger buyer. Combine all the tech toys, premium features, and competitive pricing, there should be very little holding buyers back from buying a Buick.
There is of course a long history of poor build quality that plagued the GM brands for years, it is unlikely buyers will forget it all in a year, but if the new Regal is any indication, Buick is putting it's best foot forward and asking buyers to give it a fair chance.
A fair chance is precisely what I gave this new Regal, and although there were some small annoyances nothing could detract from my overall take on this car. It is by far one of the nicest vehicles in GM's line up and maybe one of the best on the road today.

Contact Kanishka Sonnadara at kanishka@oyetimes.com