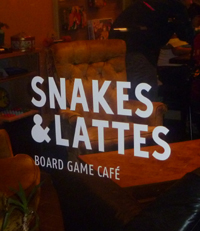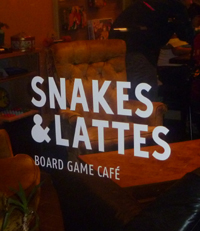 Toronto's Koreatown in the Annex is home to a new and potentially trend-setting café. Snakes & Lattes Board Game Café has no Wi-Fi, no laptops, but more importantly, no anti-social behaviour. I went on a Friday night to check it out recently and I was pleasantly surprised to see the quaint café packed to the brim with groups of friends having beers or lattes while enjoying hours of board game fun.
Upon entering the café, visitors will find the bar straight ahead to the left. One wall of the café is mostly exposed brick, giving the place the coziness of a Leslieville living room. Directly across, on the other side of the café, visitor's eyes are drawn to a wall with shelving that is chock-full of board games.
It was self-serve seating on the night I visited, as café staff were busy filling drink orders. A few people were sitting on make shift chairs while others were turned away as all tables were occupied due to a birthday party in the back section.
You won't find the annoying tick-tick-tick of keyboards here, although you will see the odd Blackberry or iPhone on the table. With no loud music blaring in the background, patrons are comfortably able to hear and speak over the moderate rumble of other conversations – just how a café is meant to be – what a concept.
"We don't want to encourage people bringing a laptop and staring at a screen all day," says co-owner Ben Castanie.
Although Friday night had an age 20-35 crowd, Castanie said weekends tend to attract families.
European Inspiration

Castanie and his partner, Aurelia Peynet, had the idea for the café brewing in their minds for the last two or so years. They were visiting a hobby store when the light bulb went on. Growing up in France, they frequented toy lending libraries where, instead of books, children borrowed toys and board games.
"People don't really play board games here," said Castanie, "The concept of board games doesn't go beyond Scrabble and Monopoly. We saw a difference between Europe and here."
The couple were determined to make their idea work and were happily proven wrong about North Americans, as throngs of people flocked to the café night after night. Snakes & Lattes continues to grow in popularity so Castanie and Peynet are exploring the idea of using their basement to expand. They've had interest from chess, Scrabble and bridge clubs who want to organize weekly theme nights and the basement would allow for the overflow of patrons.
Says Castanie, "We didn't know what to expect in the beginning, but we are definitely looking to accommodate more people."
More Than Just Board Games

Being a café, Snakes & Lattes offers the traditional lattes, coffee, tea, juices and pop, and is now licensed to serve alcohol as well. The alcoholic beverage menu consists of domestic and international beer and a very limited selection of hard alcohol behind the bar. The food menu is limited to a few croissants, cakes and pastries and chocolate bars, but it does cater to some extent to the gluten free and vegan crowd. For those who have more than just the munchies, the café offers quiche and sandwiches but it seems selection varies depending on the time of day.
This writer's recommendation is not to go for the food, but the large array of board games such as Settlers of Catan, Snakes and Ladders, Sorry, Boggle, Trivial Pursuit, Pictionary, Jenga, Operation, Clue, Battle Ship and Dirty Minds, just to name a few.
Open seven days a week, the café boasts of housing over 1500 board games with no particular closing time.
"We stay open as long as people are playing," said Castanie.
The place is a social scene with tables full of people chatting, while others are engrossed in their games. It's not uncommon to hear the random, in unison, 'OH NO!' or 'no waaayyyy' when a Jenga tower collapses or someone sinks another's battle ship.
If you're looking for something new and different for a night out, why not roll the dice and give Snakes & Lattes a try – after all what do you have to lose?
$5 to play all day, $2.50 for those under ten.
600 Bloor Street West
Toronto, ON M6G1K4