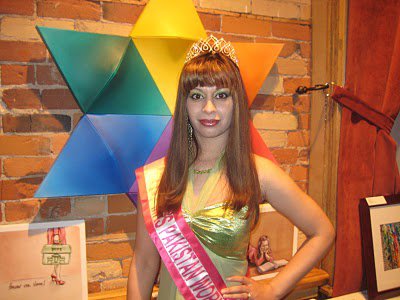 Tahmena Bokhari, Mrs Pakistan World
, made a very special appearance to help raise money for floods relief through the arts. Over 200 Torontonians came together at
heARTS for Pakistan
this Monday, October 18, 2010 at the Gladstone Hotel in Toronto, where over $15,000 was raised, with approximately $5000 matched by CIDA and the Canadian government, for survivors of the Pakistani floods which devastated the country back in August.
Partnered with the Humanitarian Coalition,
heARTS for Pakistan,
a silent art auction and fundraiser, successfully engaged the Toronto community and provided an opportunity for the arts community across Canada to collaboratively support international efforts to bring relief to victims of the floods in Pakistan.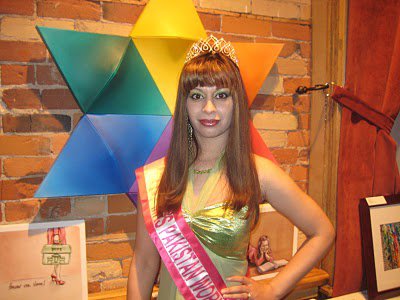 Tahmena Bokhari supported the selling of raffle tickets to help raise funds. Bokhari stated, "As a pseudo artist and as an ambassador of Pakistan, an event like this is close to my heart because it is using art to appeal to the human spirit."

Bokhari is a long time advocate for revival of the arts. Earlier this year, she spoke at a conference in London, England to help promote the arts among Muslim youth and to emphasis the strong arts tradition of the golden age of Islam. She stated, "Creativity is considered to be a divine blessing in Islam. We need to make artistic and creative outlets available and accessible to everyone. The health of each individual and the sustainability of our culture depend on it."

In referencing neuroscience research and one of the college courses she teaches, Professor Bokhari has spoken on brain development and the importance of stimulation of the mind from the ages 0-5 through dance, arts, language, and so on. She advises that it is very important in fields such as language, dance, sports and the arts that children be exposed to them early so their brain can best develop in those areas, otherwise the brain may lose the ability to develop or excel at these areas later on in life.
Bokhari has also worked on international disaster relief efforts, including the Pakistan earthquake of 2005. She states, "As a social worker, I have used various forms of art therapy in my work with victims of natural disasters and I can attest to the difference art has made in their recovery, healing and ability to carry on with their lives."

She concluded the evening by saying, "I want to thank heARTS for Pakistan for being committed to the cause of the floods. I am not sure if all of the hard working organizers of this event realize it just yet, but this is certainly a unique but necessary formula, through arts, to get the attention of multicultural communities on a natural disaster that is the largest most of us have seen in our lifetime."

Bokhari has been attending various events in support of floods relief efforts and she says that she will do as much as she can in her role as an ambassador to the country to raise awareness.

Special guests included strong supporters of the arts including Toronto's Deputy Mayor, Joe Pantalone; MP for Scarborough, Jim Karygiannis; Miss India Canada, Anchal Sharma, singer from popular pop/rock band JoSH, Q, along with community dignitaries, business leaders, and of course Canadian artists.