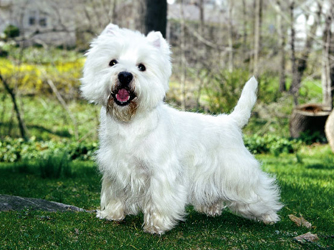 My dad, mom and I were against having any pets at home. My sister and I grew up in the Arabian Gulf (a mini South Asia) in the 1980s; then there were many stray animals and many cases of animal bites/attacks. We used to scream at the sight/sound of any animal even if tamed, when we first arrived in Canada in 1993. Therefore, we were shocked when my sister (living on her own in Boston) decided to get a maltese dog for herself. Despite all the adorable photos that she sent us of Timon (as she named him), we still did not share her excitement. When she came to visit us for the first time after getting T (as we nicknamed him), none of us wanted him near us; so, he spent most of his time in my sister's room. I would use the hand sanitizer even if he just brushed up against me. Then my sister had to leave him with us during her move from Boston to California. It was hard to resist his charm and innocence and selfless loving nature. He was always ready to play with any of us. He became my stress buster at the end of the day, always waiting by the door for me to come back home from home even if it meant midnight; he would stay up with me when I pulled all-nighters doing paperwork. He became my dad's companion during his daily chores almost appearing to supervise my dad. He helped my chronically ill mom appreciate life beyond the 4 walls of her room; she began to focus less on her physical ailments. My dad, mom and I bonded better with him as our relationship glue. We became so close to him that we found it hard to part with him when my sister came to take him back with her four months later.
We became so lonely that we got ourselves a teacup maltese puppy. We lost that puppy (TJ) and a second similar puppy (Teddy) in freak accidents last year. I consider them our angels as our family dynamics changed for the better with these unfortunate series of events. In my hour of desperation, I approached an uncertified breeder and got 2 puppies from the same litter right after we lost Teddy. I was not surprised that Jake and Junior (as we named them) had many health issues. However, now one year later, they are keeping well. My sister and T visited us recently. We cannot imagine a life without T, Jake and Junior.
It is hard to understand the significance of having a pet unless you have one yourself. There are many studies documenting the benefits of pet ownership. The recent article (http://www.apa.org/pubs/journals/releases/psp-ofp-mcconnell.pdf) in the Journal of Personality and Social Psychology is one such example. Our family is living proof – my dad's medical conditions are better controlled than before as per his family physician, my mom is in a better physical and mental state, I have learnt to focus on the simple pleasures rather than on the materialistic pleasures of life, my sister has become closer to the family, we all get along better.
Having a pet may be more expensive than rearing a child in the short term but it is definitely worth it in my opinion. I would recommend going through a certified breeder and getting pet insurance. For the experienced pet owner, there is also the option of adopting/rescuing pets – this is such a rewarding experience as per my sister.
Article viewed at: Oye! Times at www.oyetimes.com