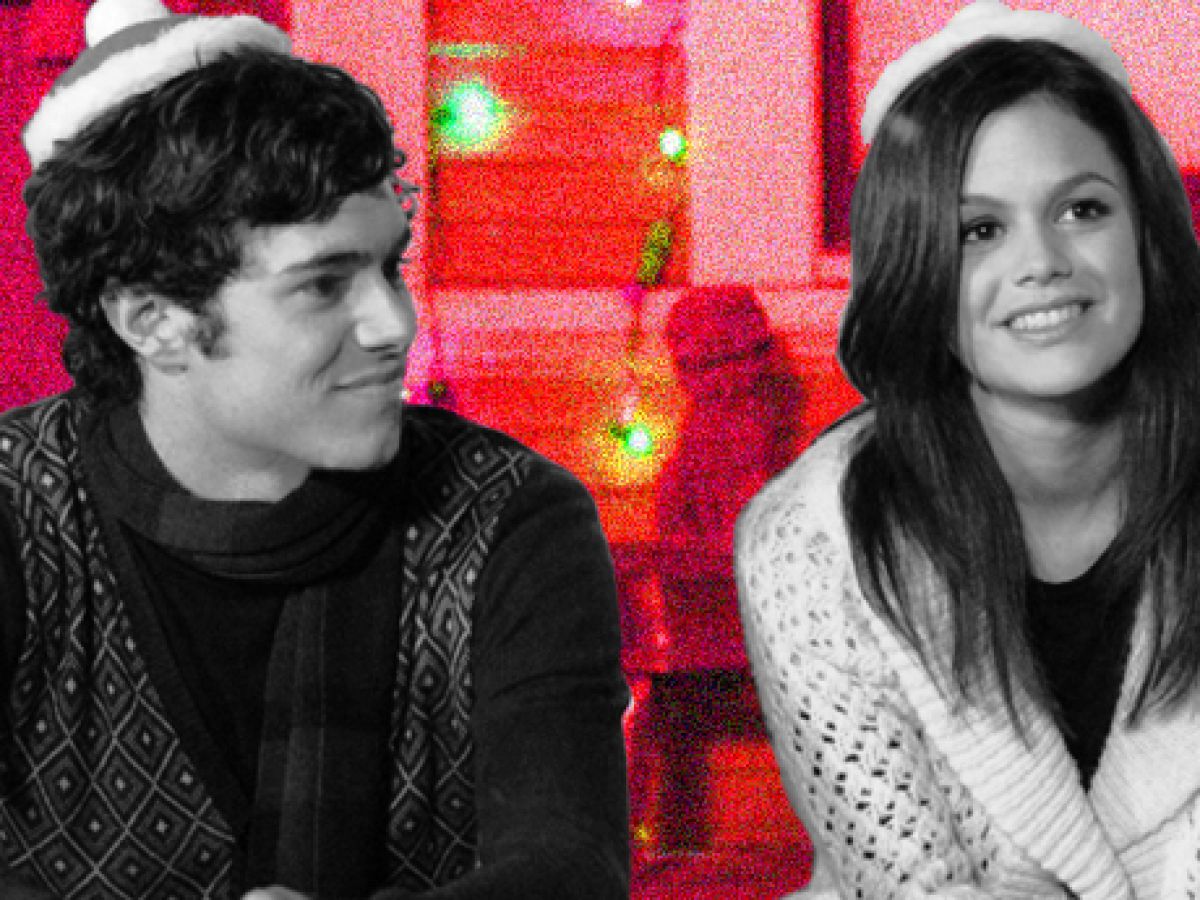 Photo: Designed by Emily Zirimis.
Holiday episodes have become a time-honored television tradition. Many shows bring on the good tidings, but only some manage to really separate themselves from the pack. Just as every seasonal tune can't be a hit, only the best holiday episodes stand out in our memories. We can only watch characters trot through their show's version of It's a Wonderful Life so many times. An extra "bah humbug" to any series that merely regurgitates A Christmas Carol.
But, these 24 episodes are truly special — because they're fresh, creative, funny, and yes, heartwarming. Watching them gets you in the holiday spirit, and they're absolutely worth repeat viewings when you need a little extra cheer.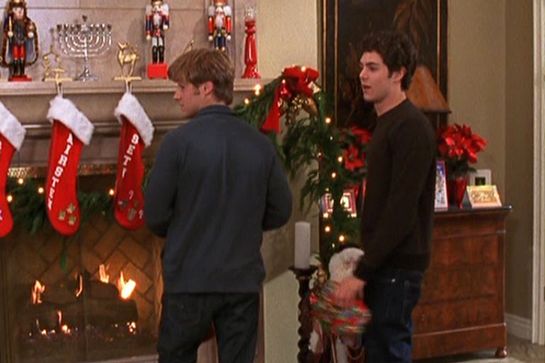 "The Best Christmukkah Ever," The O.C.
Original air date: December 3, 2003
It's Ryan's first holiday season in the O.C., and his new brother Seth teaches him all about the joys of having a Jewish father and Christian mother. And, while Seth doesn't have to choose between Christmas and Hanukkah, he does have to make a choice when it comes to dating Anna or Summer.
Photo: Courtesy of FOX.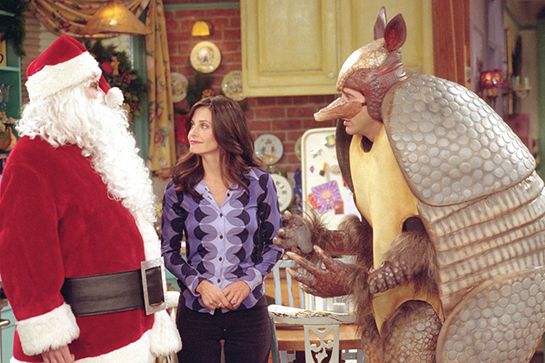 "The One With the Holiday Armadillo," Friends
Original air date: December 14, 2000
Ross really wants to teach his son about Hanukkah, but Ben can't stop talking about Santa. Ross relents and tries to rent a Santa suit, but he can't find one this late in the game. So, Ross invents Santa's Tex-Mex friend, "The Holiday Armadillo," who tries to tell Ben the story of Hanukkah. Too bad Chandler manages to track down that Santa suit and totally steal Ben's attention and affection.
Photo: Courtesy of NBC.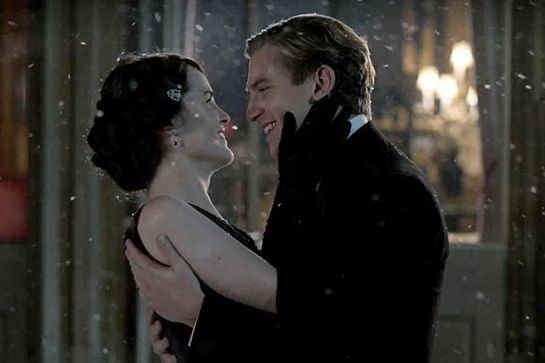 "Christmas at Downton Abbey," Downton Abbey
Original air date: February 19, 2012
After a long, winding journey of a relationship, Matthew asks Mary to marry him. We're pretty sure some other things happen in this episode, but that final scene with the proposal in the snow outside Downton is the moment we waited two seasons for.
Photo: Courtesy of PBS.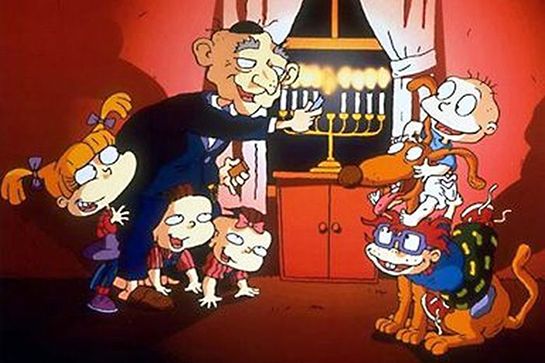 "Chanukah," Rugrats
Original air date: December 4, 1996
Tommy, Chuckie, and the rest of the gang imagine themselves as the Maccabees while Grandma Minka tells them the story of the Festival of Lights.
Photo: Courtesy of Nickelodeon.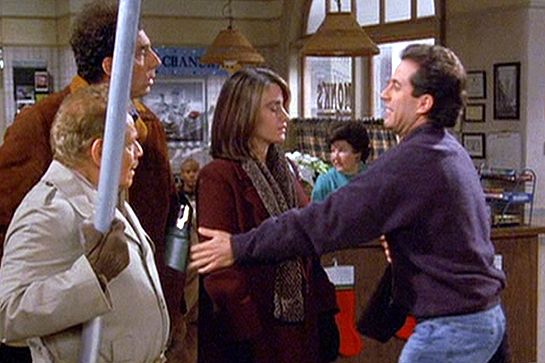 "The Strike," Seinfeld
Original air date: December 18, 1997
Also known as "the episode that gave us Festivus," which forever changed how we spend December 23rd. We'll see you around the aluminum pole for the Airing of Grievances and Feats of Strength.
Photo: Courtesy of NBC.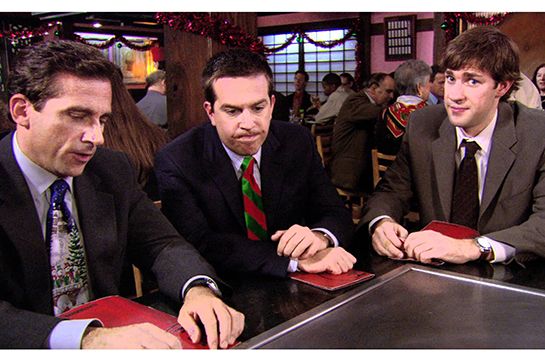 "A Benihana Christmas," The Office
Original air date: December 14, 2006
Michael is left broken-hearted when Carol breaks up with him over an inappropriate Christmas card. The men of Dunder Mifflin rally around their fallen comrade and try to cheer him up with a trip to Benihana, which Michael calls "Asian Hooters." Back at the office, two rival party planning committees plan two different holiday parties. The most exciting development, though, involves Jim and Pam rekindling their friendship after the whole feelings-confessing, return-to-Scranton scenario.
Photo: Courtesy of NBC.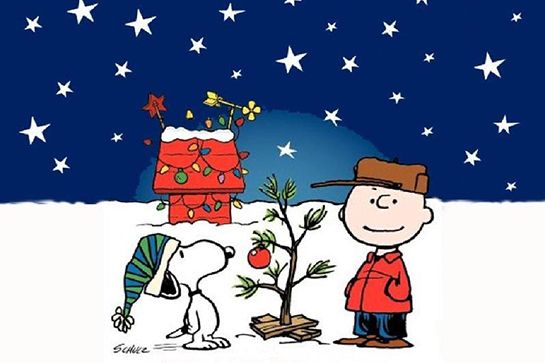 A Charlie Brown Christmas
Original air date: December 9, 1965
In which Charlie Brown and the rest of the Peanuts gang learn the true spirit of the holiday, and a sad, brown sapling becomes the most resplendent Christmas tree there ever was.
Photo: Courtesy of CBS.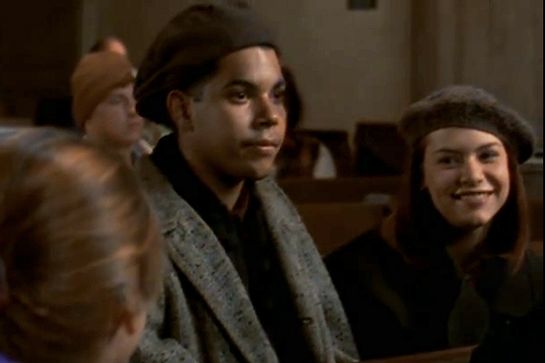 "So-Called Angels," My So-Called Life
Original air date: December 22, 1994
When Rickie ends up homeless on Christmas, Angela is able to help her friend thanks to the assistance of a mysterious girl.
Photo: Courtesy of ABC.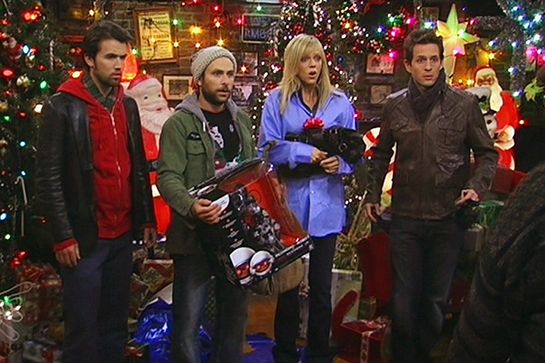 "A Very Sunny Christmas," It's Always Sunny in Philadelphia
Original air date: December 9, 2010
Dennis and Dee seek revenge on Frank for his years of buying what they wanted for Christmas for himself and rubbing it in their faces. Mac and Charlie realize that the warm and fuzzy Christmases of their youth were actually quite the opposite. Mac's family broke into other homes and stole presents, and Charlie's mom entertained a series of sleazy men in Santa suits in exchange for gifts for her son. The special culminates in a fever dream claymation scene, because of course it does.
Photo: Courtesy of Comedy Central.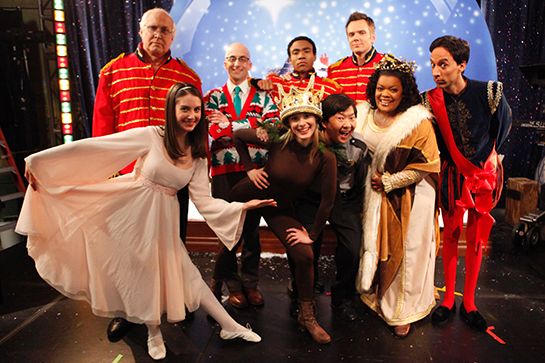 "Regional Holiday Music," Community
Original air date: December 8, 2011
Community had several great holiday episodes during its run on NBC, including "Abed's Uncontrollable Christmas," a stop-motion animation delight. We're partial to this extremely dark parody of Glee though, which features every member of the gang falling under the spell of charismatic Cory Radison (Taran Killam), the director of the Greendale Glee Club.
Photo: Courtesy of NBC.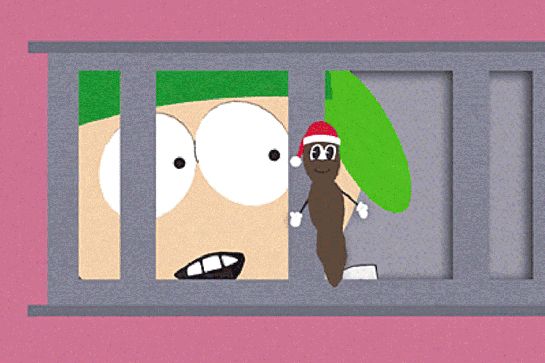 "Mr. Hankey, the Christmas Poo," South Park
Original air date: December 17, 1997
When Kyle laments being "a lonely Jew on Christmas," he's visited by Mr. Hankey, the Christmas Poo. Unfortunately, this fecal vision soon gets Kyle locked up in a mental institution. Meanwhile, the people of South Park are in an uproar over offensive, overly denominational things in the annual Christmas pageant. The episode ends with a forlorn Jesus singing "Happy Birthday" to himself, and presents a scathingly scatological commentary on how overly sensitive folks can be about the holidays.
Photo: Courtesy of South Park Studios.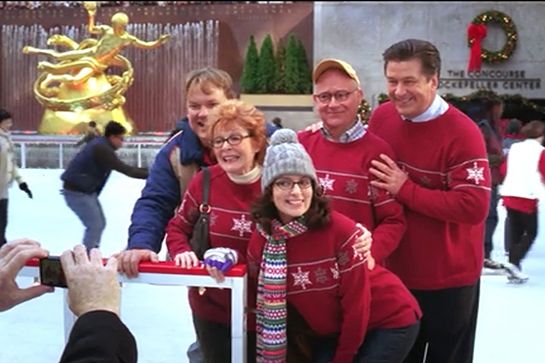 "Ludachristmas," 30 Rock
Original air date: December 13, 2007
The TGS writers complain about their crappy presents and prepare for their annual bout of debauchery known as "Ludachristmas." Naturally, Kenneth decides to lock them up to teach them the true meaning of Christmas. Meanwhile, Jack and Colleen join the Lemons for their matching sweater fest, and steadily dismantle the web of lies on which the seemingly happy family had existed for years.
Photo: Courtesy of NBC.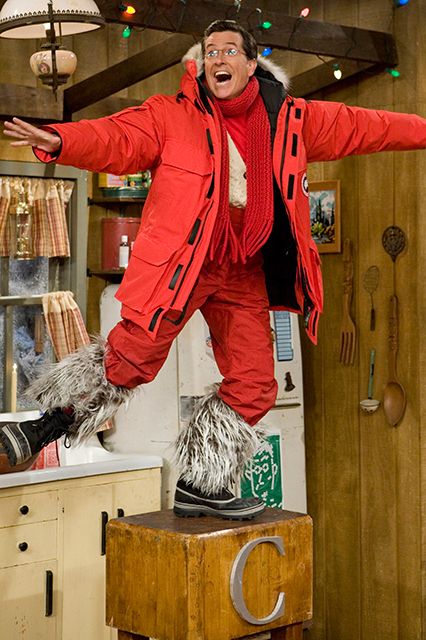 "A Colbert Christmas: The Greatest Gift of All!" The Colbert Report
Original air date: November 23, 2008
"I'm so excited right now, I'm sporting a yule log," Stephen Colbert jokes at the start of his holiday special, in which the host and amazing singer teams up with the likes of Elvis Costello, Feist, John Legend, and Willie Nelson (a.k.a. "The Little Dealer Boy") to sing some carols. Oh, and it's not all about Christmas: Jon Stewart joins Colbert for a dirty duet about latkes.
Photo: Kristopher Long/Comedy Central.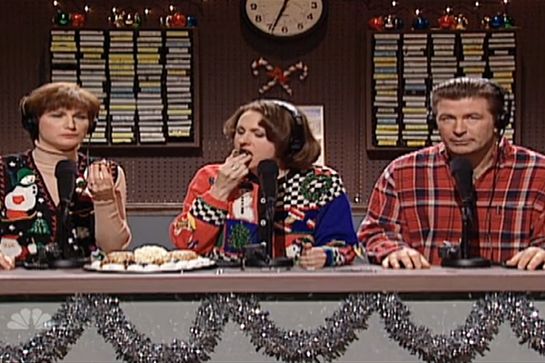 "Schweddy Balls," SNL
Original air date: December 12, 1998
This Saturday Night Live episode hosted by Alec Baldwin will forever be remembered as one of the show's greatest holiday achievements, thanks to this sketch. Baldwin plays the proprietor of a seasonal treat store, Pete Schweddy, who loves nothing more than whipping out his balls during the holidays.
Photo: Courtesy of NBC.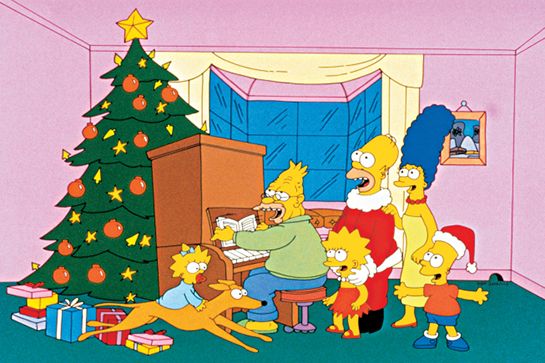 "Simpsons Roasting on an Open Fire," The Simpsons
Original air date: December 17, 1989
Homer finds out he won't be receiving a Christmas bonus, and the family has no money for presents after Marge is forced to use their holiday savings to remove Bart's new tattoo. Homer tries to earn extra money by pulling double duty as a mall Santa, but even that isn't enough. In a last-ditch effort, he takes Bart to the dog racing track, and they wind up with something even better than money: an abandoned greyhound named Santa's Little Helper.
Photo: Courtesy of FOX.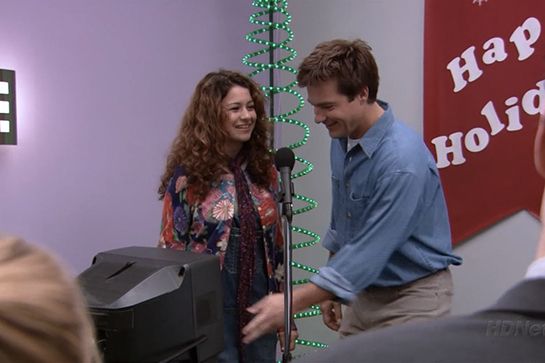 "Afternoon Delight," Arrested Development
Original air date: December 19, 2004
Ain't no holiday party like a Bluth Company holiday party, where an uncle and his niece sing a duet of "Afternoon Delight," completely oblivious to its meaning.
Photo: Courtesy of FOX.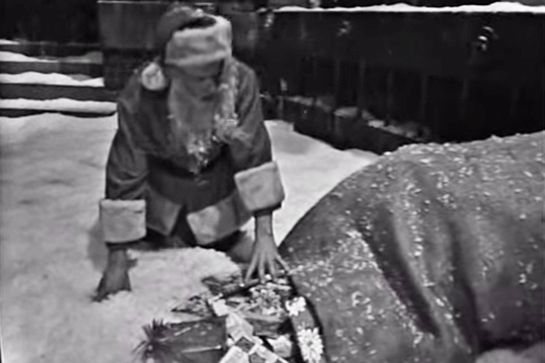 "The Night of the Meek," The Twilight Zone
Original air date: December 23, 1960
After a mall Santa is fired for being drunk, he stumbles upon a magic sack. The goodie bag always contains the perfect present for someone, so he sets out to perform some Christmas miracles.
Photo: Courtesy of CBS.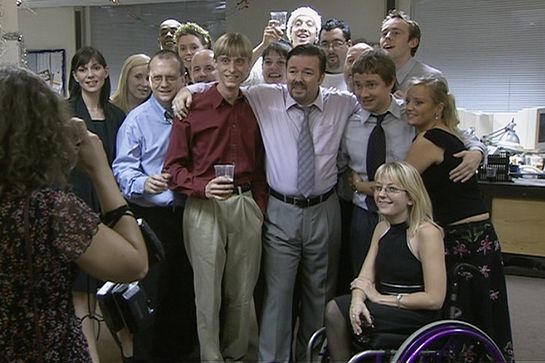 "The Christmas Specials," The Office (U.K.)
Original air date: December 26, 2003
Tim and Dawn 4EVA. That is all.
Photo: Courtesy of BBC.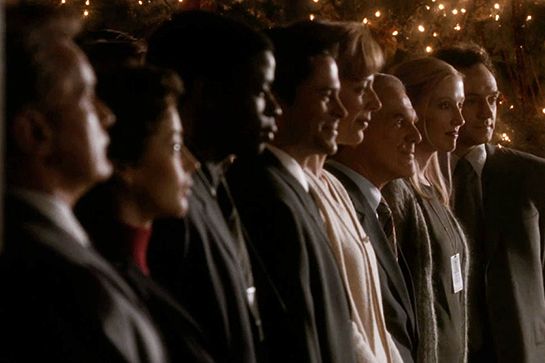 "In Excelsis Deo," The West Wing
Original air date: December 15, 1999
This Emmy-winning episode touches on many real-life concerns at the dawn of the new millennium including homeless veterans, political sex scandals, and hate crimes perpetrated against gay youth (based on Matthew Shepard's death).
Photo: Courtesy of NBC.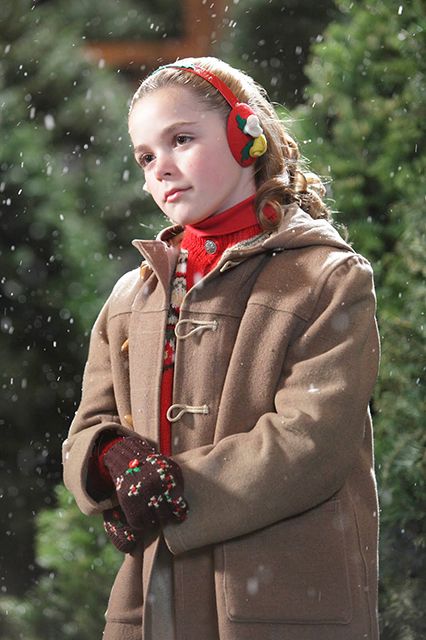 "Christmas Comes But Once a Year," Mad Men
Original air date: August 1, 2010
It's Don's first Christmas since the divorce, and both he and Sally are having a hard time coping with their splintered family. At Sterling Cooper Draper Price, Roger turns the company party into a bacchanalian event when he learns that a Lucky Strike representative will be in attendance. When Freddy Rumsen brings the Pond's Cold Cream account to the agency, Peggy struggles with old and new expectations for women.
Photo: Courtesy of AMC.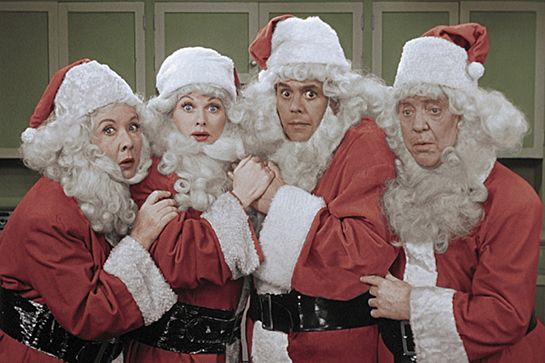 "I Love Lucy Christmas Special," I Love Lucy
Original air date: December 24, 1956
Lucy and Ricky send Little Ricky off to bed with tales of of Santa Claus. Then, Fred and Ethel come over, and the quartet of friends reminisce about that time they rushed to the hospital so Lucy could give birth to Little Ricky — only they forgot Lucy at home.
CBS is airing a newly colorized version on Friday, December 20 at 8 p.m.
Photo: Screen Grab/CBS.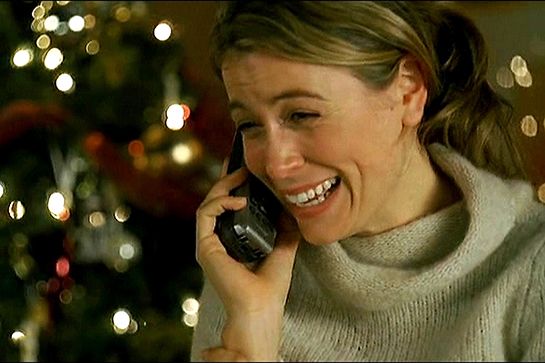 "The Constant," Lost
Original air date: February 28, 2008
While not technically a holiday episode, this wonderfully crafted Lost story bends time and space to allow Desmond to reconnect with the love of his life and his "constant," Penny, on Christmas Eve. The episode presents a broader message about the shared human need we feel to connect with loved ones every year around the holidays.
Photo: Courtesy of ABC.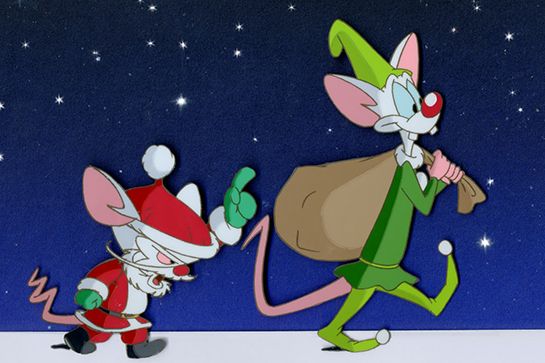 "A Pinky and the Brain Christmas," Pinky and the Brain
Original air date: December 13, 1995
What this special lacks in notoriety and widespread recognition, it more than makes up for by being the only holiday episode on this list presented by Steven Spielberg. What we wouldn't give to see "A Jurassic Jaws Holiday" hosted by Indiana Jones, though.
Photo: Courtesy of Warner Bros. Television.

"Roman Holiday," Gossip Girl
Original air date: December 19, 2007
The Christmas episode in Gossip Girl 's first season is great because it offered a look into the dysfunctional lives of these New York City teens with the most glamorous and unrealistic lives imaginable. From Blair's father unexpectedly coming home with his new boyfriend, to marital rifts that bubble up during the holidays, this one will make you feel better about your own family.
Photo: Screen Grab/The CW.
Click HERE to read more from Refinery29.



Loading ...