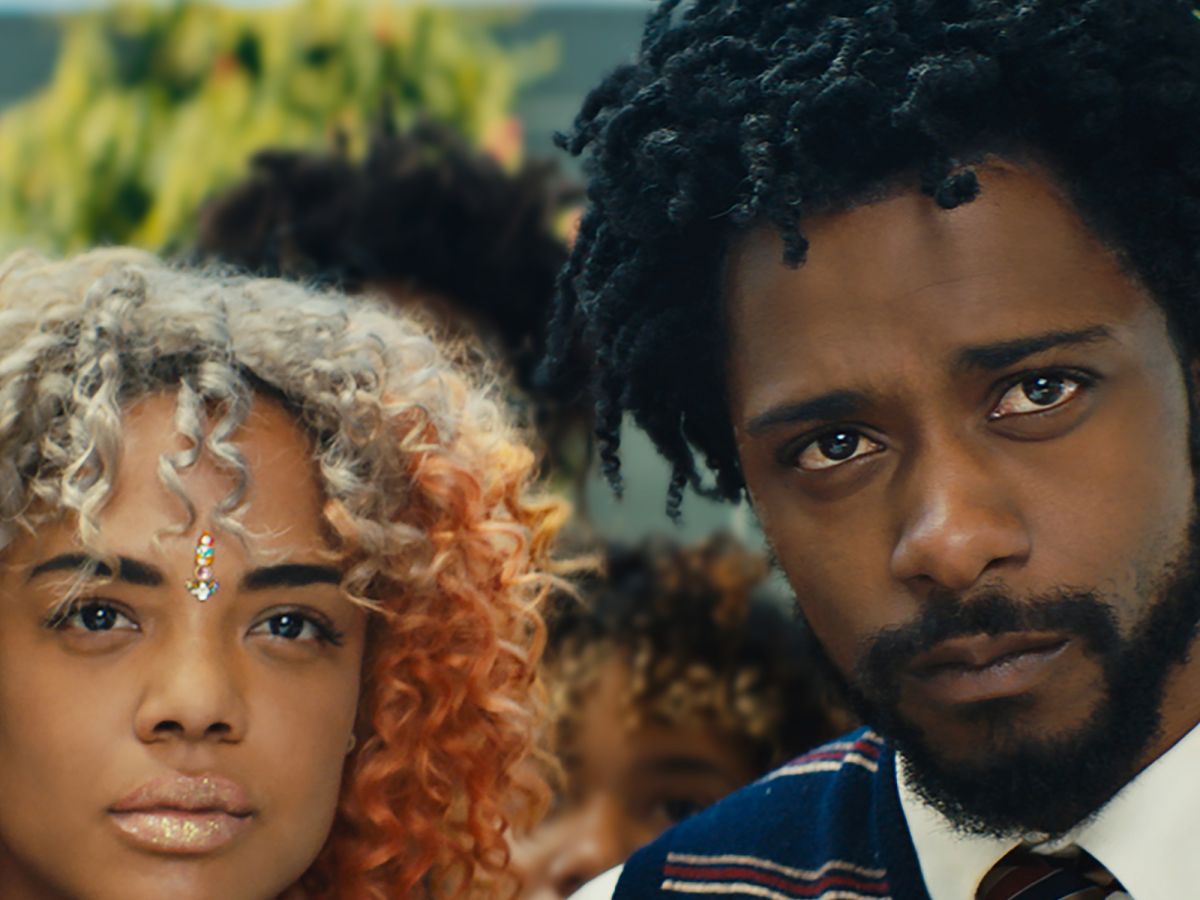 Even before film buffs could pack up their skis and parkas at this year's Sundance Film Festival, critics were already buzzing about Sorry To Bother You. Starring Atlanta 's Lakeith Stanfield, Westworld 's Tessa Thompson, and Call Me By Your Name star Armie Hammer, the social commentary film debut from director Boots Riley is set to be the indie hit this summer.
If you've read any early reviews, you already know that this isn't your average film. The independently made film only took six weeks to shoot, but there's much more than meets the eye. It's visually arresting, smart, and features an eclectic range of characters sporting truly unique costumes. From colorful hair to fluorescent makeup, no detail was spared. To find out more, we asked the film's makeup department head, Kirsten Coleman, for all the details.
Coleman confirms that Riley's particular eye for detail to character descriptions is something you rarely see in this industry — at least when it comes to his willingness for both Coleman and the actors to collaborate on ideas, especially for the protagonists Cassius Green (Stanfield), his girlfriend Detroit (Thompson), and sarong-wearing antagonist, Steve Lift (Hammer).
"I got to fill in the blanks," Coleman exclusively tells us. "He trusted my opinion, which doesn't always happen with directors. For characters who can be outlandish and different, it was a lot of fun. The actors were excited because they likely haven't had the opportunity to play these characters in their careers, so they were willing to take risks and push the limits."
And push the limits they did. From Thompson's rainbow hair to Hammer's multi-colored eyes, Coleman spilled almost every secret you need to know before seeing Sorry To Bother You this summer, ahead.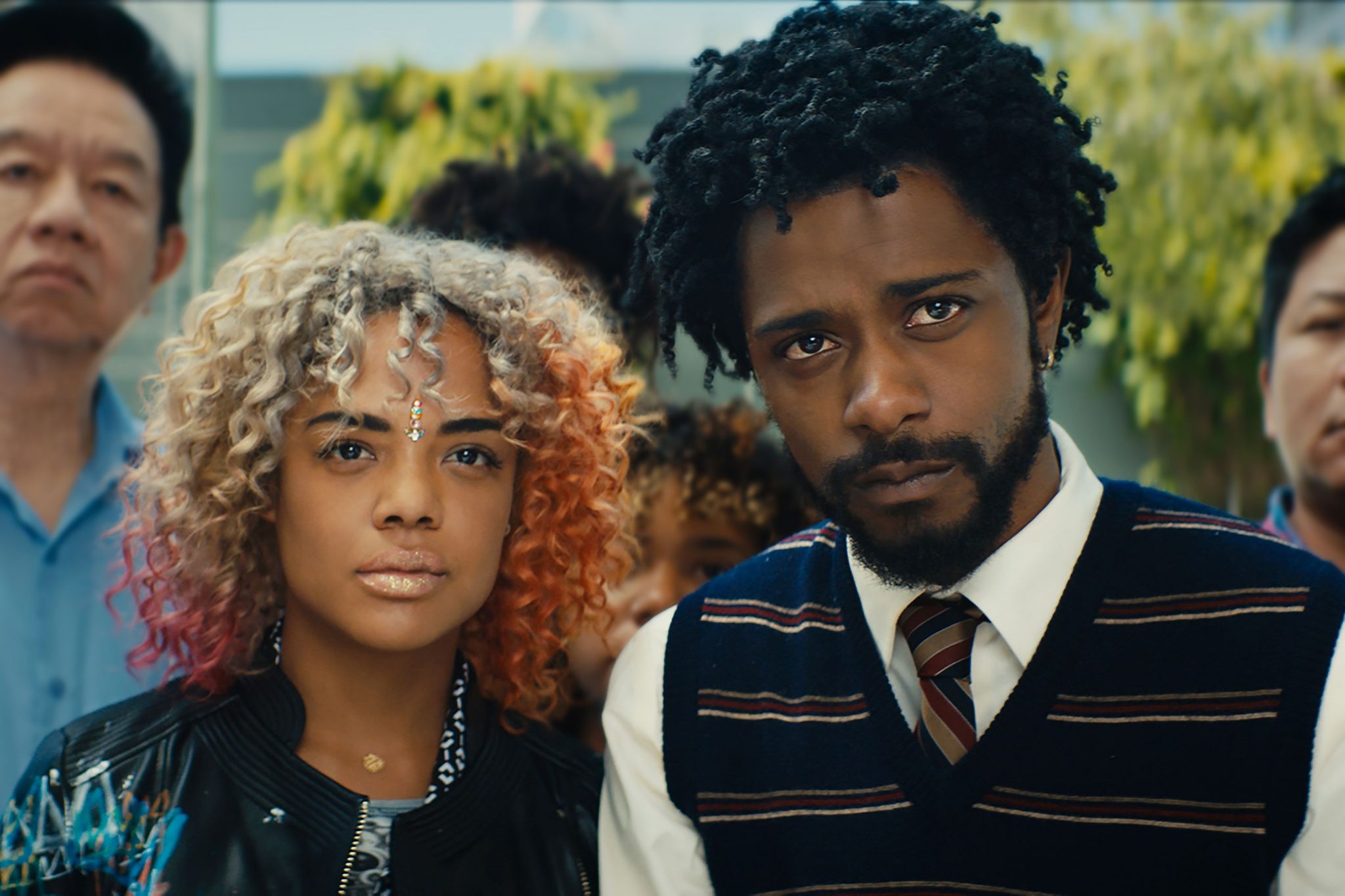 A Lot Of The Looks Were Improvised
Similar to how Thompson and Antoinette Yoka, head of the film's hair department, created the technicolor dip-dyed ends we now recognize as Detroit's signature look, Coleman and the actress did the same for her makeup. After creating and combining Pinterest boards for inspiration, the two landed on a look that would embrace the essence of Afropunk style. What's more, it would be decided on the fly. With almost 15 different looks in the whole film, Coleman and Thompson had nothing more than one day of makeup testing with little time to prep for the entire filming schedule. That said, almost every look was improvised based on how Thompson felt Detroit might feel on any given day.
Coleman says that for a lot of the looks, the stars aligned. For example, at one point Coleman was without her full makeup trailer, being transported back and forth from the set now stationed somewhere on a hill in Oakland. In a hurry to create an impressive look for Detroit, she dug in her back-up bag and pulled out whatever she could find. "I had a blue lipstick, a couple bindis, a mascara, and I said, 'Alright, I'm going to Macgyver this look.' I used the lipstick as her eyeshadow and bindis on her lids, so when she closed her eyes it was really wild."
Photo Courtesy of Kirsten Coleman.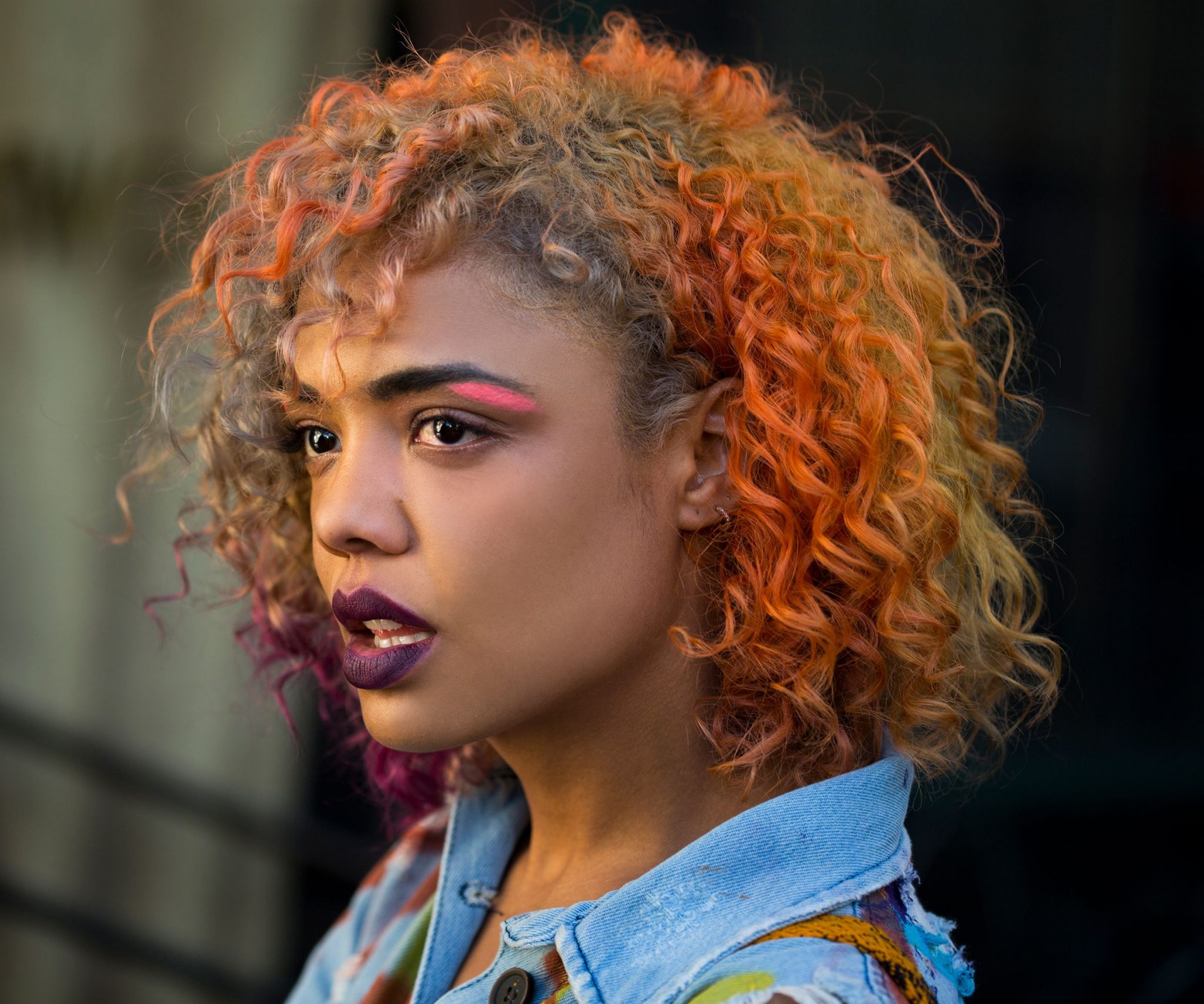 The Details Tell A Deeper Story
With an evolving beauty look, it's no wonder that Coleman stuck to accessories to beef up Detroit's style. Some of which she's even noticed Thompson using on the red carpet IRL, like her
Met Gala
face and body pearl embellishments
. Coleman tells us she'd use gems on Thompson's body, bindis on her nails instead of her face, and other subtle details you have to look out for while watching. "These just add a subliminal idea that Detroit is constantly progressing and she wears her art," explains Coleman. Which also might explain her tattoos…
Photo Courtesy of Kristen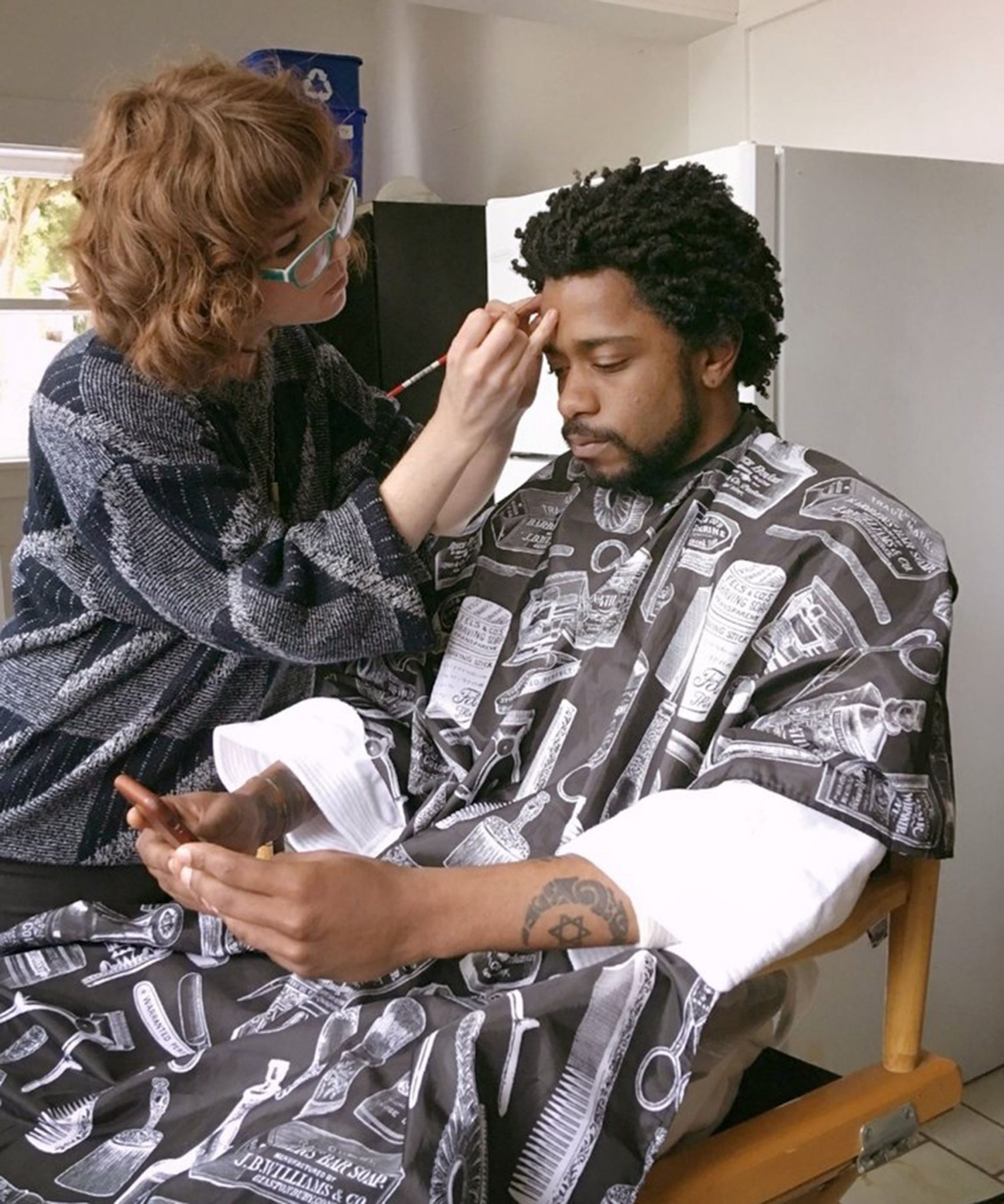 Stanfield Had To Cover His Tattoos — Every Single Day
Speaking of tattoos, Stanfield has a lot — but Green has none. The first day of filming, Stanfield had to appear in a scene where he's shirtless, so Coleman covered the actor's entire body in airbrush makeup with custom-blended shades to fully hide his various tattoos."He's almost always wearing body makeup in the movie," explains Coleman. "He was a trooper."
So why couldn't his tattoos show? "Green is supposed to be, in my opinion, a little insecure, trying to make something of himself," Coleman explains. "He's the opposite of Detroit in that way. She'll paint her face and walk around outside because she doesn't attach her identity to her body. [Unlike him] she puts her art on her body."
Thompson, on the other hand, got more tattoos added for filming. Although the actress has a few of her own on her wrist, most of them were covered, while some were added. "I hand-painted a teeny tiny tattoo behind her ear every day," Coleman recalls. The meaning: The makeup artist says that you'll find out more in the film, but to keep in mind that Detroit is a progressive character who often blurs the gender binary.
Photo Courtesy of Kirsten Coleman.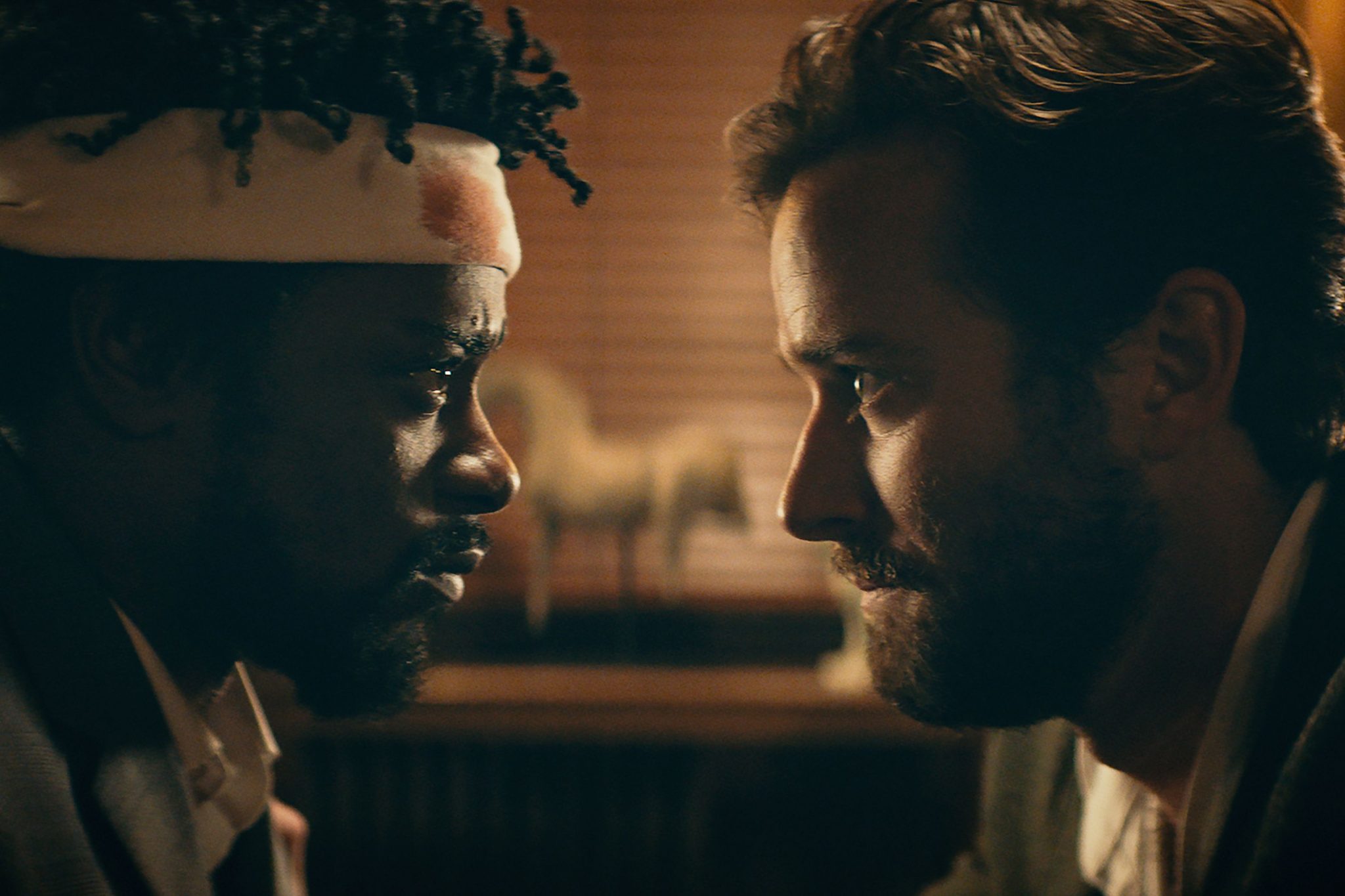 Lift's Eyes Are Not As They Seem
"Armie's hilarious," says Coleman. "I could barely stop laughing when he was in my chair." But his character, Lift, could not be more different. Coleman describes him like a mad scientist with some unexpected depth, so she wanted to show that in his look.
Naturally, Hammer came to set with plenty of inspiration. "He told me he wanted to be that tech guy, like Steve Jobs, but crazier. [Lift is] casual, but has a ton of money, so he had to look distinguished, but different," Coleman explains. To do this, Coleman partially lightened Hammer's real facial hair and dyed some of it gray to create that "refined, silver fox kind of look." But look a little closer and you'll notice something else: Lift's two-toned eyes. "I actually approached [Hammer] with the idea of two different colored eyes. I thought that would make a lot of sense for his character, for him to have a unique distinction he was born with," she says. "It's very subtle, but one is a light blue contact and the other is his real eye color."
Photo Courtesy of Kirsten Coleman.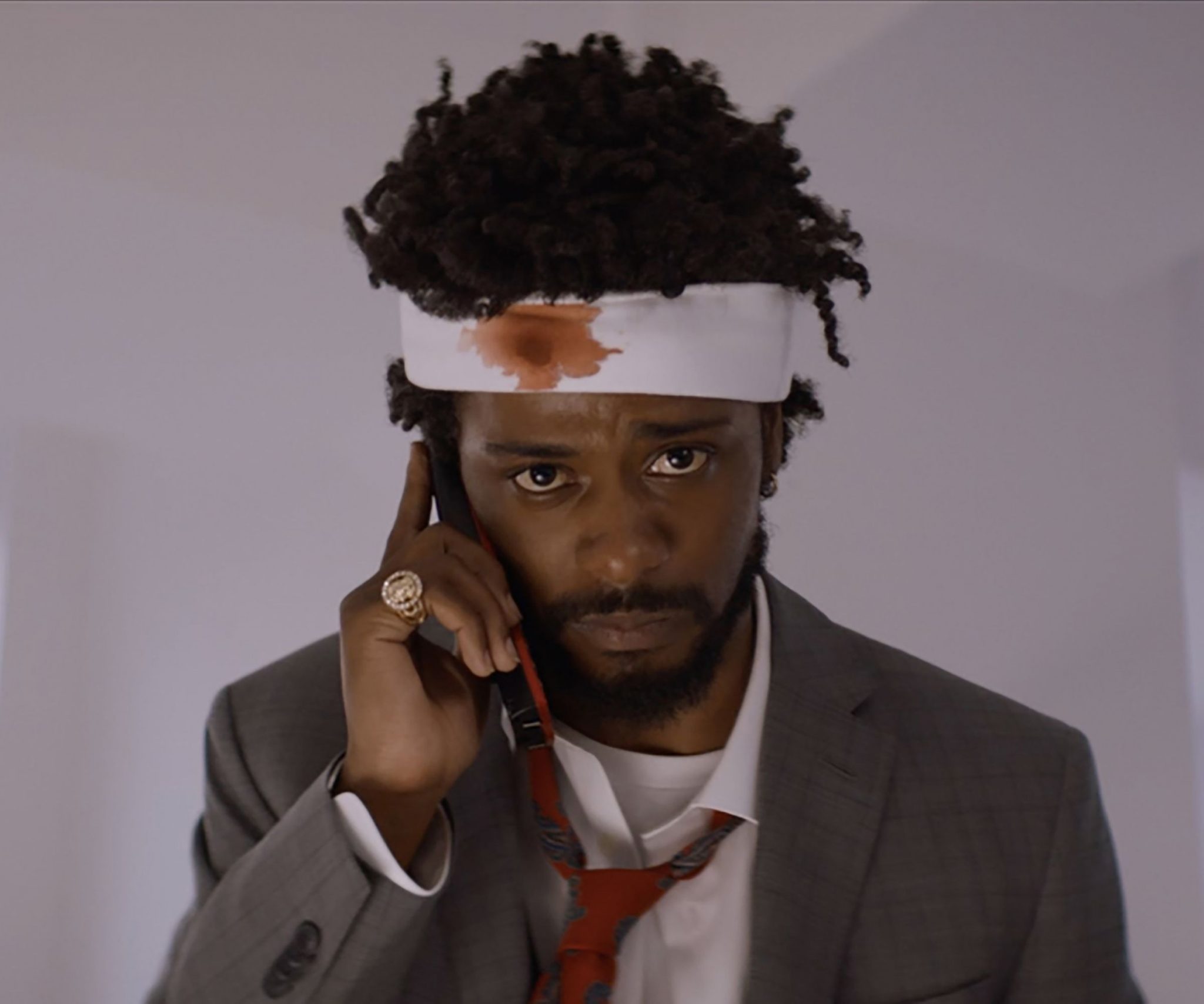 The Subliminal Messages Are Everywhere
"Every character has something," Coleman says, but notes that most of which you won't spot the first time you see the film. For example, Coleman would make someone's cheeks and nose red to suggest they'd been drinking to much before coming on screen, or add a tattoo to someone's face lending to their punk-rock past. "It's one of those things where you'll watch this movie again and again and find something every time," she says. "Even the bandage on Green's head, that prop, pay attention to that. It's sort of a character itself."
Sorry To Bother You comes out on July 6.
Photo Courtesy of Kirsten Coleman.
Click HERE to read more from Refinery29



Loading ...