This article was last updated on April 16, 2022
Canada:

Oye! Times readers Get FREE $30 to spend on Amazon, Walmart…
USA:

Oye! Times readers Get FREE $30 to spend on Amazon, Walmart…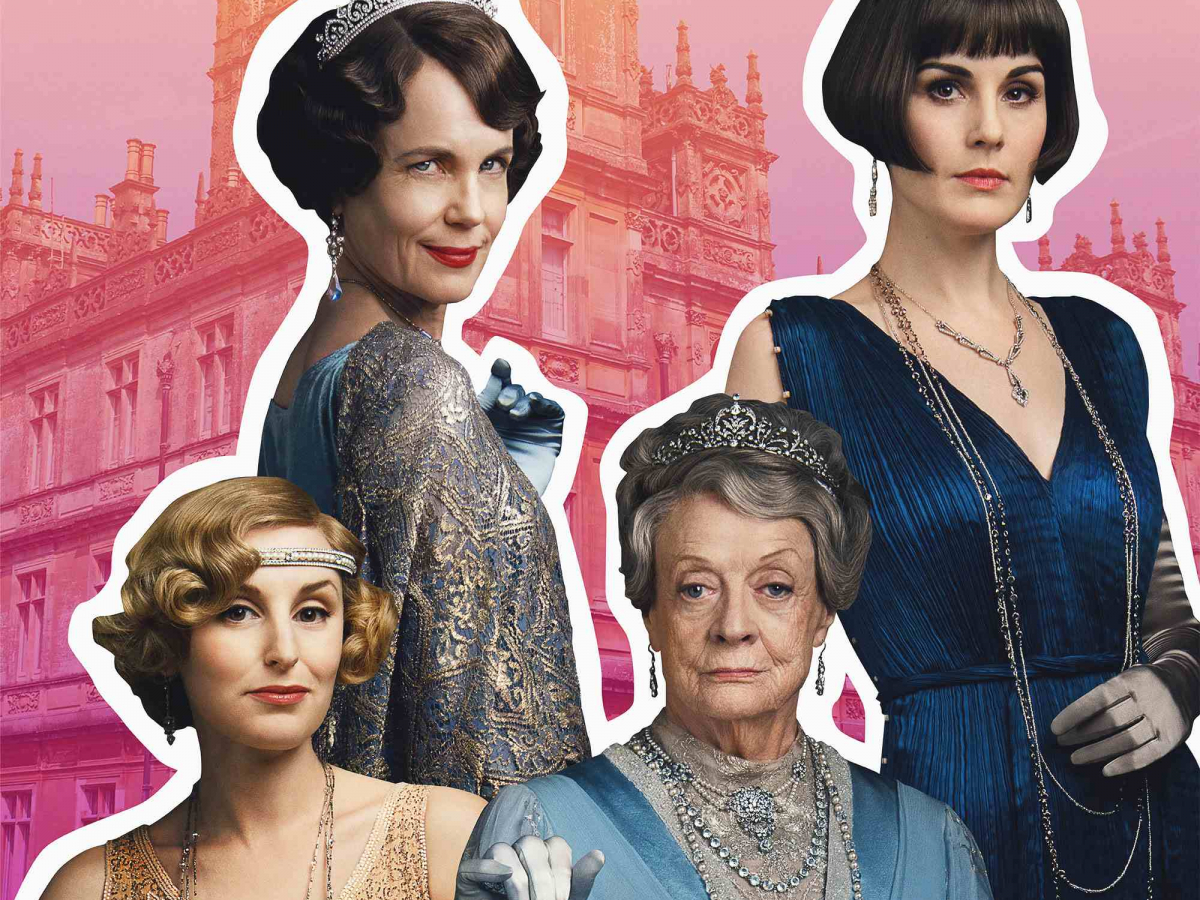 The following article contains mild spoilers for Downton Abbey.
The official trailer for the Downton Abbey movie opens with the familiar allegro con spirito overture of its theme music and an unlikely refrain from the Crawley family patriarch.
"No maid, no valet — no nanny, even," Robert Crawley, the Earl of Grantham (Hugh Bonneville), exclaims as he exits the Jacobethan manor to greet his daughter, Lady Edith (Laura Carmichael), her new husband, Bertie Pelham (Harry Hadden-Paton), and her daughter, Marigold (Eva Samms), who have arrived by car without the cadre of servants typical of an aristocratic family in the early 20th century. "It's 1927," Bertie replies. "We're modern folk."
That declaration belies the central plot point of the film: a spontaneous visit from the King and Queen of England (Simon Jones and Geraldine James, respectively) that has the downstairs staff scrambling to polish every spoon in the place. The monarchy, quickly falling out of favor among the middle and lower classes, still has a stronghold on the daily lives of families like the Crawleys. The world around them is modernizing at breakneck pace, but within the walls of Downton Abbey there's a demonstrable resistance to significant change.
You can read into it as a poorly-timed metaphor for modern politics (one critic called the film "Brexit propaganda") or you can choose to be carried away by the inherent escapism that makes the world of Downton so charming in the first place, even as it observes real history through a fictional lens. In many ways, viewers benefit from the Crawleys' aversion to modern trappings; no matter the year, you can count on the lords and ladies at Downton to remain as elegant and polished as ever. After all, it's the visual richness that has always made the series irresistible, with hair and makeup an inextricable component of its appeal.
As the hair and makeup designer for seasons one and two, Anne Nosh Oldham helped establish the signature looks for the main characters, defining their different eras and classes. Now, she's reprised her role for the feature film to help usher in a new, slightly more modern age for the beloved residents of Downton. "What we wanted to do is sharpen everything to make it look really polished and great for the big screen," she says. "What we didn't want to do is get too far away from the people that everybody loves so dearly. Nobody could be unrecognizably different — so we just pushed everything up a notch."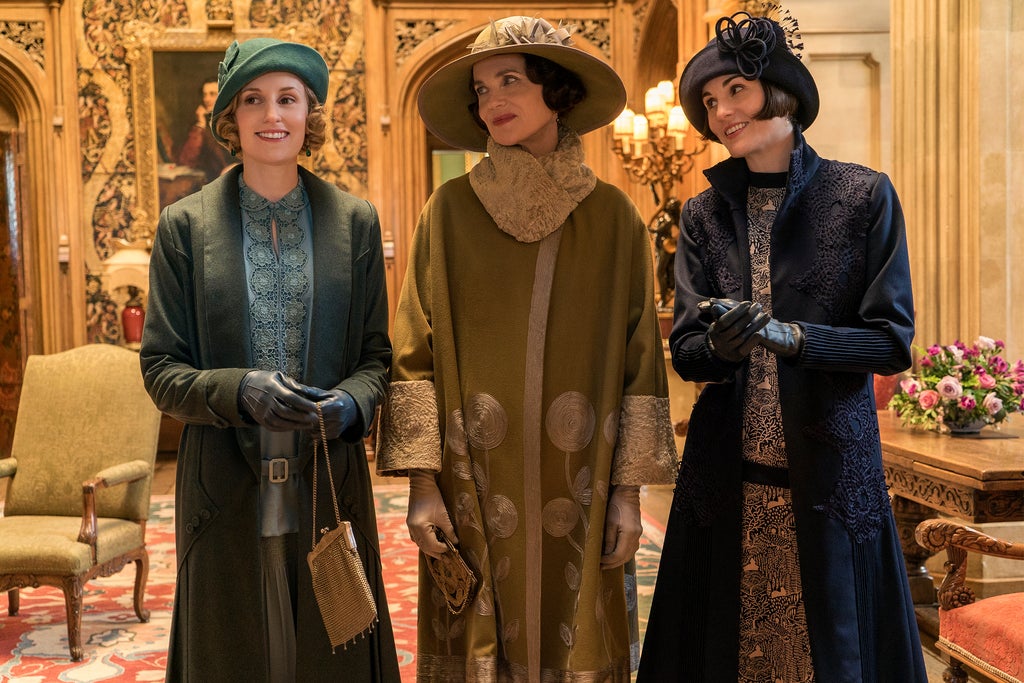 Lady Edith (Laura Carmichael), Cora Crawley (Elizabeth McGovern), and Lady Mary (Michelle Dockery) in Downton Abbey.
For Lady Mary, who Oldham calls the "fashion leader" of the house in addition to literally leading the estate, that meant updating the bold (in style and decision) bob she got in season five with an even sharper, shorter cut, complete with a chic short fringe. Newlywed Edith — always the underdog, now outranking the rest of her family as the Marchioness of Hexham to her husband's Marquess — trimmed her hair, too, opting for the soft, lush finger waves that were so popular in the '20s. Downstairs, lady's maid Anna (Joanne Froggatt) followed suit with a stylish shoulder-length cut; assistant cook Daisy (Sophie McShera) has a bob of her own, finding her own footing and clearly having recovered from her catastrophic DIY haircut at the end of the TV run.
The cultural influence from the era's film stars and fashions is visible, but not so obvious as to feel inauthentic to the characters and their place in polite society. "You had all the magazines coming in at this point, so the influences were quite different from when we started the series," Oldham says. British Vogue would have been a decade into circulation at that point, but the upper-crust northerners (Downton is set in Yorkshire) wouldn't exactly have been in step with common cosmopolitan tastes — and not least because Countess Violet (Dame Maggie Smith) wouldn't approve.
"The girls would go to London and pick up new wardrobes, but they were very much aristocratic country people," Oldham says. "We tried to make sure that they always looked beautiful, but the very strong makeup of that era would not have been appropriate for ladies of their rank. The Dowager Countess would think it very vulgar if you're wearing too much makeup, so we tried to get a balance."
Naturally, the occasion of the royal visit required some "bumping up" of the makeup. Mary in particular gets a little more drama for her evening look, with darker lips and more defined brows. Oldham opted for a heavier brow for the period overall, using Charlotte Tilbury products and Suqqu's Liquid Eyebrow Pen in Moss Green to anchor the faces so as not to disappear underneath the ornate gowns and the glittering tiaras — some on loan from Bentley & Skinner, which has supplied jewelry to the Royal Family since Queen Victoria's reign.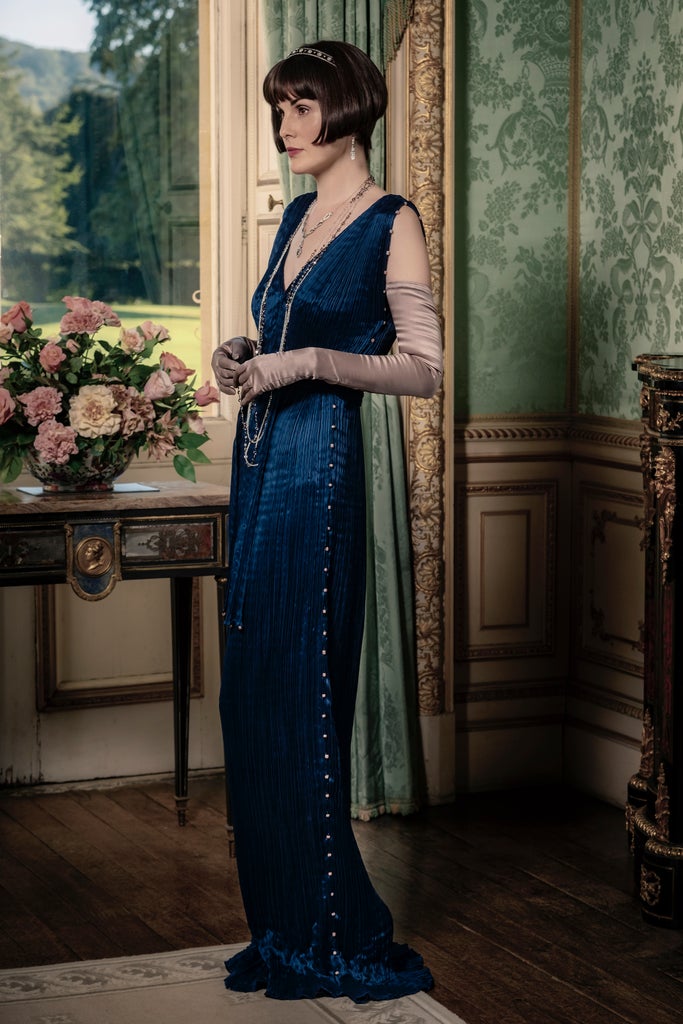 4127_JB_D008_0033_RC
Michelle Dockery stars as Lady Mary Talbot in DOWNTON ABBEY, a Focus Features release.
Credit: Jaap Buitendijk / © 2019 Focus Features, LLC
"With royalty, everybody wore tiaras. Anna [Robbins], the costume designer, chose such extraordinary tiaras for everybody, and we had to match them really well to each hairstyle," Oldham says. "They're the most beautiful little things, but they're a hairdresser's nightmare." With the majority of the cast in wigs, the stylists on set had their work cut out for them. Oldham explains, "You had to get them in absolutely right from the very beginning, and we all just had to keep our fingers crossed that the tiaras wouldn't misbehave and fall out or twist because they would just rip your wig."
As much as the tiaras were a status symbol (if the Dowager Countess' antique foliate piece featuring 16.5 carats of old-brilliant-cut diamonds doesn't scream "extreme wealth," then what does?), so too were the smooth, milky complexions, the post-Edwardian pallor of men and women who had never worked outdoors a day in their lives. Oldham looked to the flushed faces in portraits by John Singer Sargent and Monet for inspiration, and relied on primers by Armani, Laura Mercier, and Suqqu and plenty of cream blush to recreate the effect. "Cream just makes everyone look like they have a lovely natural glow, because powder blush can be a bit heavy for when you're doing a period piece," she says. "With a cream blush, you get that dewy, slightly sheen-y sort of color, and you just look peachy and delicious. We kept it as light as we could — I'm a great believer in not putting makeup if you don't need it."
As Oldham reiterates, the objective was to refine and polish each character's existing sensibilities, like the tines of each fork in all of Downton Abbey in preparation for the royal visit, rather than reinvent or evolve to suit the zeitgeist. In the movie's final scenes, steadfast butler Carson (Jim Carter) vows to his wife, head housekeeper Mrs. Hughes (Phyllis Logan), that Downton will still be standing in one hundred years, and the Crawleys will still be living in it. If history is anything to go by, they'll probably still be wearing minimal makeup, cloches over their pin curls, and tweeds on horseback, too.
Click HERE to read more.

You can publish this article on your website as long as you provide a link back to this page.
You can publish this article on your website as long as you provide a link back to this page.