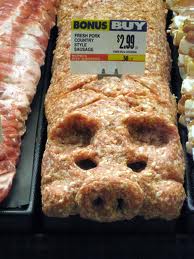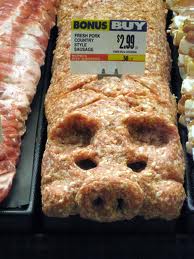 Wikipedia
National Pig Day is an event held annually on March 1 in the United States to celebrate the pig. The holiday celebration was started in 1972 by sisters Ellen Stanley, a teacher in Lubbock, Texas, and Mary Lynne Rave of Beaufort, North Carolina. According to Rave the purpose of National Pig Day is "to accord the pig its rightful, though generally unrecognized, place as one of man's most intellectual and domesticated animals." The holiday is most often celebrated in the Midwest.
National Pig Day includes events at zoos, schools, nursing homes, and sporting events around the United States. It is also recognized at "pig parties" where pink pig punch and pork delicacies are served, and pink ribbon pigtails are tied around trees in the pigs' honor. According to Chase's Calendar of Events, National Pig Day is on the same day as pseudo-holidays Share a Smile day and Peanut Butter Lover's day. The question of whether the holiday is a time to honor pigs by "giving them a break" or to appreciate their offerings (spare ribs, bacon and ham) is an open question.
National Peanut Butter Lovers Day
According to the Toronto Sun:
Today, for example, is ostensibly Share a Smile day (it's also National Pig Day and Peanut Butter Lover's day — I guess Elvis celebrated both with those PB & Bacon sandwiches).
January 24: National Peanut Butter day in the U.S.
So, there is a distinction between Peanut Butter Day and Peanut Butter Lovers Day. (American Food Holidays)
Peanut butter is one of America's favorite foods. Found in about 75% of American homes, peanut butter is considered by many to be a staple like bread and milk. While the traditional kid and comfort food favorites – pb&j's and criss-cross cookies – remain favorites today, peanut butter is all grown up when used in savory sauces for pasta, meat and vegetables.
This web site is dedicated to all those who love peanut butter. Check out our favorite recipes or post your own in the recipe section, participate in our latest contest, find out how peanuts are grown and made into peanut butter, or see how peanut butter stacks up nutritionally. But first, you might want to make yourself a peanut butter sandwich. Our site has been known to induce serious peanut butter cravings!
How to celebrate both?
This lady has a good idea:
Besides both being a good source of protein, it seems that the porcines and the goober lovers have a common reason to celebrate.
National Pig Day is all about celebrating the pig, primarily in the Midwest, but is often celebrated by consuming in them in all their deliciousness.
Should you not be a fan of Babe on your plate, perhaps plan on have some sweet goober lovin' to finish off your meal.
How might you celebrate one or both holidays? Maybe a combo dish or in the same meal?
I'm thinking a batch of homemade peanut butter cookies, and true to form I was a couple days ahead and made baked BBQ sauced ribs today.
Click HERE to read more from William Belle
Article viewed at: Oye! Times at www.oyetimes.com