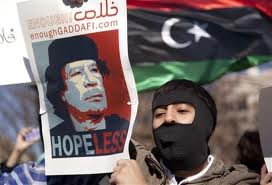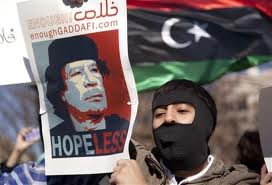 With newspapers reporting on the success of the protesters in taking control of parts of Libya, the Gaddafi regime has started an offensive to try and wrest control from these so-called rebels according to the
Guardian
.
Monday night saw Gaddafi loyalists attempt to retake two towns, Zawiyah and Misrata. Pro-Gaddafi troops apparently attacked Zawiyah from six directions in a battle that lasted six hours however the rebels included army forces who had switched sides. As a consequence, the attack was reportedly met with tanks, machine guns and anti-aircraft guns. There are no details on casualties in the city. Zawiyah is 30 miles west of Tripoli.
Misrata, Libya's third largest city 125 miles east of Tripoli also came under attack but rebel forces repelled the attackers. Gaddafi has already lost control of the eastern half of the country but still holds the capital Tripoli and some nearby cities.
Humanitarian Concerns
According to Al Jazeera, 70,000 people have crossed into Tunisia since February 20. The UN has set up camps and authorities are coping as best they can but there are concerns about water and sanitation. The Egyptian government is also saying 70,000 have crossed into Egypt but most of them are Egyptian.
However fighting throughout the country, especially around Tripoli is making the situation unstable and insecure for aid agencies. The UN and the Red Cross are unable to access many areas and it is unknown what state the population may be in and their needs for food and medicine may be. Estimates put the number killed in Tripoli alone between 600 and 2,000.
Assets Frozen
Canada, Britain, Germany, all have frozen assets belonging to Libyan leader Gaddafi and various members of his clan. (Al Jazeera) The U.S. has frozen $30 billion in assets, supposedly the largest seizure of foreign funds in American history. (VOA) These nations as well as the European Union have imposed an arms embargo and bans on travel visas. This tightening of the noose, as it were, is going to make it more and more difficult for Gaddafi to stay in power and if the regime decides to pick up shop, there is the question of just where it will go.
Embarrassed by Libyan connections
The London School of Economics is in a bit of a storm over its acceptance of a donation from the Gaddafi family. The BBC is saying that the school has already received £300,000 from the Gaddafi International Charity and Development Foundation of the £1.5m pledged in 2009 by Gaddafi's son. Saif al-Islam studied at the institute from 2003 to 2008 and received both a Master of Science degree and a doctorate.
In light of current events, students are protesting the school's ties to Gaddafi. LSE director Sir Howard Davies has admitted to being embarrassed by this donation.
Saif al-Islam plagiarized?
On top of it, there is now the allegation on the table that Gaddafi's son plagiarized his doctoral thesis. It has come to light that he used a ghost writer and copied sections of his paper. The BBC printed a statement from the school:
"LSE is aware that there are allegations of plagiarism concerning the PhD thesis of Saif Gaddafi. The School takes all allegations of plagiarism very seriously, and is looking into the matter in accordance with standard LSE procedures."
Delusional
The BBC is quoting this morning the US ambassador to the UN, Susan Rice as saying that Gaddafi is "delusional" and "unfit to lead". She gave an interview after Gaddafi gave an interview to various media outlets saying that he was loved by all his people and denied there had been any protests in Tripoli. Rice added that the fact he was laughing at questions while "slaughtering his own people" showed that he was "disconnected from reality".
Euronews – Feb 28/2011
The fight goes on to oust Gaddafi
The people of Benghazi in the east of Libya may be free but they know there is still some way to go before the whole country is rid of Gaddafi's rule. With reports that forces loyal to the Libyan leader and massing for a counter attack near the Tunisian border, many Benghazi's are signing up as volunteers to help their brethren in the west. In Libya most men have done compulsory military service.
Click HERE to read more from William Belle
Article viewed at: Oye! Times at www.oyetimes.com