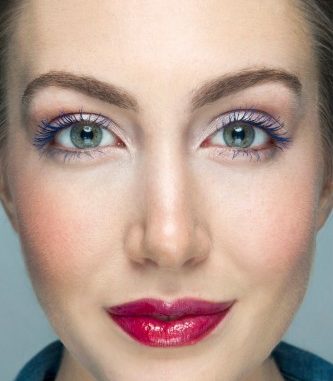 When you think of colored mascara, stylish is likely not the first word that comes to mind. The bastion of '90s makeup, along with visible lip liner and streaky blush, it's mostly avoided by women today for fear of looking tacky or dated. Maybe it's nostalgia or maybe it's just post-Fashion Week insanity, but we just weren't ready to give up on bright mascara altogether — it makes your eye color pop like no other, opens up your eye area, and really is a fun way to play with color.
We knew there had to be a chic way to rock a full-color fringe, so we asked Yves Saint Laurent makeup artist Melina Cavalieri to help craft three sophisticated makeup looks that use colored mascara to its full, fashionable potential. Scroll down to get the scoop on the looks and find out which hue will best accentuate your gaze.

Ultra-Marine
If you want to make your blue eyes stand out, try using a bright marine to really accentuate their depth. According to Cavalieri, one of the most common mistakes that women make with colored mascara is matching their shadow with it — this will just make your eyes look busy, so opt for a complementary color instead.

Get The Look
"To make your look sophisticated and chic, keep it simple by adding little or no eyeliner to the lash line, plus a light blush to create contrast," says Cavalieri. For this look, she applied a light pink shadow across the lid and a touch of pink blush to the apples of the cheeks. She then swiped on a few coats of Yves Saint Laurent Volume Effet Faux Cils in #3 Extreme Blue. To enhance the look, Cavalieri chose a vibrant berry lip hue — the blue undertones subtly complement the mascara without being too stark.

Green Goddess
"I think green mascara looks best on hazel or brown eyes," says Cavalieri, "it lightens the eye color." If you're still a little hesitant about Technicolor lashes, Cavalieri says to apply your usual black or brown mascara and then put the colored mascara just on the tips of the lashes. Or try a shade that has a black base — this will give you a hint of color that's only apparent when the light hits your lashes just right.

Get The Look
To get this fun twist on a neutral eye, Cavalieri used a nude shadow on the lid, extending it up into the crease so that the green of the lashes are juxtaposed against the brown. She used Mascara Volume Effet Faux Cils Shocking in #6 Jade Black, lined eyes with a dark brown liner, and finished up with an apricot blush and lip gloss.

Purple Passion
According to Yves Saint Laurent, purple mascara is one of their best-selling colors. That's good news for girls with green eyes, because it happens to be the hue that looks best on them. And while it might be tempting to be stingy with the mascara, Cavalieri tell us it's important to layer on the color so that it shows up — that's the point after all! "It's a great way to add color quickly to the eye, especially if you are in a rush and don't have any time to create a full eyeshadow look," she says.

Get The Look
For this look, Cavalieri used Mascara Volume Effet Faux Cils in #4 Fascinating Violet. To really make the purple pop, she created a very light, smoky gray eye and paired that with a rose flush and a pale pink lipstick.
Modeled by Willow Lindley
Photographed by Ben Ritter
Makeup by Melina Cavalieri
Click HERE to read more from Refinery29.