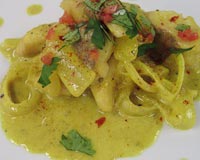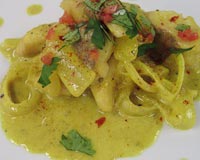 Fish Moulee
Ingredients :
500 gm fish fillet
1 tsp turmeric powder
2 cups coconut milk
1 tbsp flour
1 tsp red chilli powder
2 green chillies (slit into halves)
½ tsp sugar
3 tbsp oil
1 medium-sized onion (chopped)
salt to taste
Method :
Rub the fish with salt and turmeric powder and keep aside for 5 minutes. Heat the oil in a pan and fry the fish pieces a few at a time till they turn just light golden brown. Drain out the oil and keep aside. In the same oil, fry the chopped onion and ginger till they are translucent. Add the green chillies and fry for another minute. Lower the heat and add 1 cup of water. Mix in the chilli powder and the sugar and salt to taste. Bring to the boil and allow to simmer for 3 minutes.
Mix in the coconut milk and allow the gravy to simmer for another 3-4 minutes. When the gravy thickens a bit, add the fish pieces and cook for another 2-3 minutes.
Serve with plain rice.