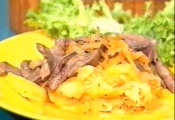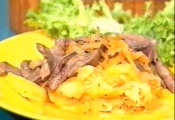 Lamb Chilli Fry
Ingredients :
1 lb. lamb
4 medium sized tomatoes,chopped
4 onions
12 green chillies
4 flakes garlic
1" ginger
1 tsp cumin seeds
A small bunch of Cilantro(Corinader leaves)
Salt to taste
Cooking oil
Method : Cut the meat into small cubes. Slice the onions.
Grind together the green chillies, garlic, ginger, cumin seeds and the cilantro.
Heat some oil and fry the sliced onions till well browned.
Add the ground masala and saute over high fire.
When oil begins to separate, add the meat and salt to taste.
When the meat starts to become tender, add the chopped tomatoes
and some water. Simmer the curry for 10 minutes. Bring it to a boil. Eat when hot.