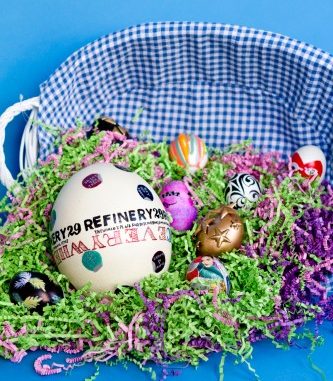 Whether you're spending the weekend at home with family or in the company with friends for the first rooftop brunch of the season, the Easter weekend offers a cozy, communal vibe we always look forward to.
While we might be too old to go on an egg roll, we do enjoy gathering all our fellow DIY-ers together and getting our Picasso on with a carton of eggs. This year, the R29 staff went to town on a basketful, and came up with a few fashion-inspired designs that rival omelets as our favorite use of the egg.

The eggs assembled all together, in all their high-design glory.

A swirling, Prada-inspired pattern.

Leftover stars from our Rodarte DIY, repurposed on an egg!

Smile, Karl! We love this fash mag egg.

Pastel feathers. So ethereal.

A pyramid-studded egg.

Rhinestone eyebrows, inspired by Chanel.

Who wants some CDG Play?

A massive R29-dedicated ostrich egg.

Neon paint-dripped designs.
Written by: Us
Photographed by: Guang Xu
Click HERE to read more from Refinery29.