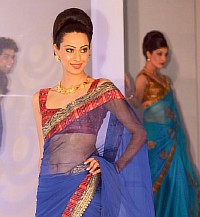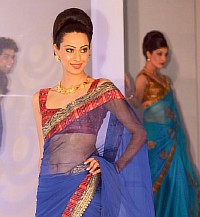 With the words recession and meltdown becoming a part of conversation everywhere, people are cutting back on several expenses. But are they compromising on looking and feeling good in terms of what they wear?
Looking trendy doesn't necessarily involve spending a bomb on your clothes, says model Rachel Bayros. "I'm not a brand-conscious person. I mix and match, creating my own style statement. The trend of pairing branded cloths with ethnic wear is quite popular now," she says.
Model Mugdha Godse feels cutting back on expenses is more of a psychological thing. "India hasn't been hit by the recession in a big way but people still tend to sub-consciously make an effort to go easy on expenses, which could mean buying three branded items instead of five," she says. Mugdha also claims that she's never been very brand-conscious. "I like picking up ethnic stuff. There are so many great handloom collections and other handicrafts, but they aren't very cheap either. I believe it's quite possible to look fab in anything decent if one has the right personality to carry it off," adds Mughda.
Designer Raj Shroff says there's no denying the fact that people will cut down on their expenses because of the current economic condition. "As they hear about all the cost-cutting, they'll end up being choosy about what they buy and wear, though they're not going to stop shopping entirely," he says.
Raj also says that in order to suit the customer's need, designer brands are now giving discounts. "So, people have the option of buying their favourite brands at lower prices. But people have to decide whether they want to stick to flashy designer clothes or look smart and chic in a simple pair of jeans and white shirt," points out Raj.
Going low-budget doesn't mean shunning designer wear altogether. "Those who can afford more expensive material will go for high-priced designer clothes and others can buy the less expensive kind," says designer Nisha Sagar. "Cloths and fabric with more detail tend to be more expensive. So, there's the option of going for fabric with less embroidery and craftwork. A simple kurti or top from a good brand makes a great buy," she explains.